Upon the start of  writing this blog post, I heard the soft pitter- patter  of  Summer's rain, as it hit  the nearby ground and roof surfaces. It's always a refreshing sense to hear, feel and see amidst the perpetual heat. Nature needs the water, as do our own bodies. As a result of rain, Earth is replenished, blooms flourish. I welcome the grey skies, it gives me permission to relax indoors and go about my chores what ever the bucket list of them is at that time. Sort of like an abbreviated snow day, during this wonderful sunny summer. Still, I feel the calm the rain brings, and simply love it among the misty skies of grey.  On this rainy day,I accidentally happened to have created this design with a water bottle. The little nuances nature provides. Serendipity.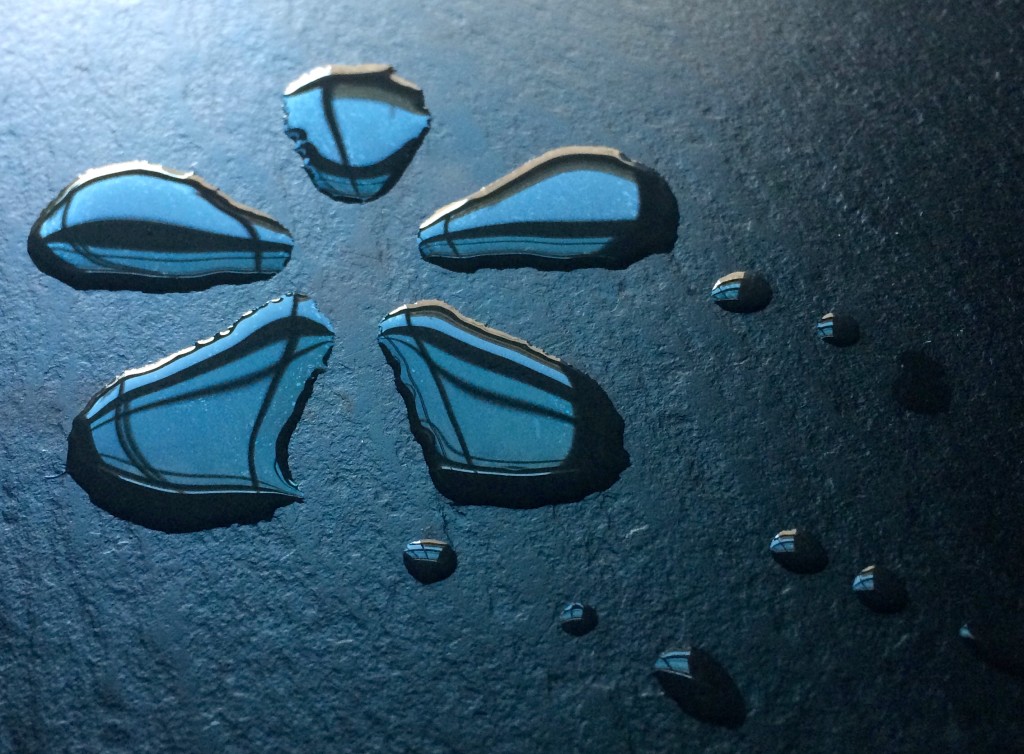 Had I not been fully present, I would have yanked the Poland Spring bubbly bottle off the counter of slate, placed it back into the fridge and missed this beauty. Note the clear reflections in the distinct shapes of water.
I honestly don't know what it is about water that  soothes so much. Gentle  harmony, perhaps?
The sounds of a waterfall, the beauty of the brook babbling over small and large rocks, the resonating tone of the ocean waves crashing down upon one another.  We are surrounded by these innate sounds and acts of nature.. which I  especially  notice not living in the city, any more. I find respite from these natural performances. I am not really sure how it is possible,  having type A personality, I can decompress so very quickly at the beach. It never fails to disappoint. Ever!
I share a photo from one of my several excursions this summer on the Plum. Plum Island, that is. It's a smaller beach than the vast beauty at Crane, in Ipswich, but I rather fancy the intimacy here. The sand is darker and coarser. I leave completely rejuvenated. Always.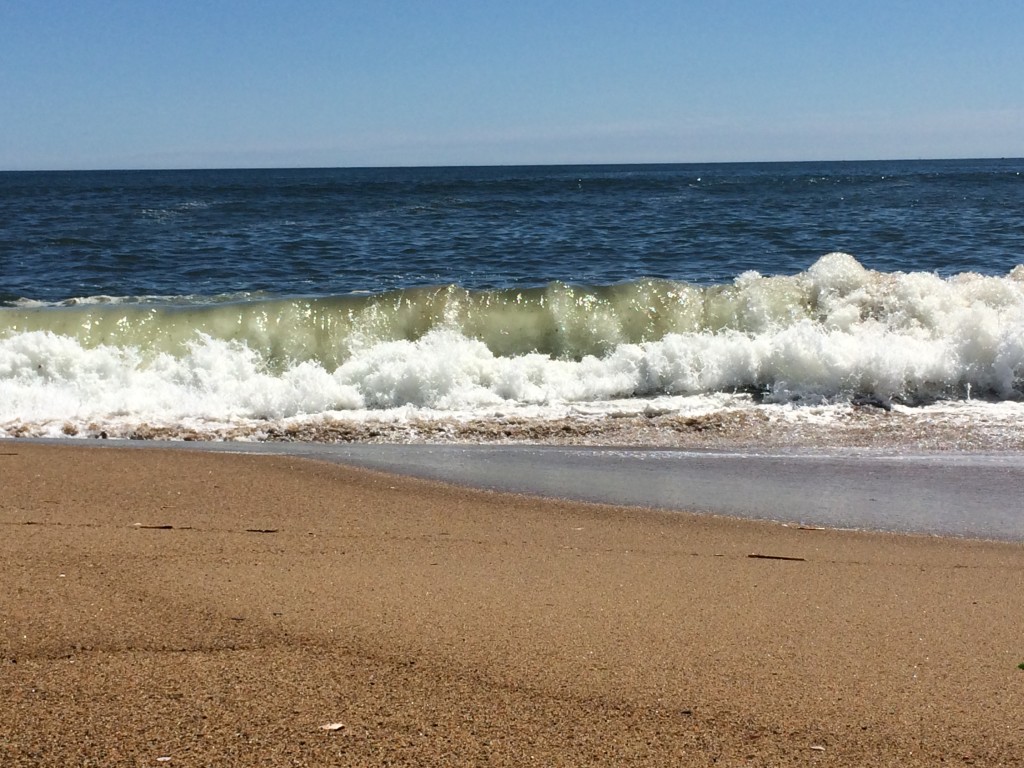 It is unfortunate, however that the glory of the summer months on the North Shore is rather abbreviated from mid July to nearly mid August. Why?  Beasts of the North East. That's why. What am I referring to? Greenheads. That's what.  The ground of salt marsh is springy, sort of like walking on a lumpy trampoline. Water oozes through the tufts of matted grass. Apart from an occasional deer, assorted birds, turtles maybe an otter, the Greenheads dominate this territory. They are very hungry, and their main source of desire is the blood from humans. Not a pleasant situation. They are so determined and can make your vacation a nightmare. Nothing can keep them away. Deet which is one of the primary ingredients in bug spray won't do the trick either. The stuff is bad enough for your skin, but honestly? It won't work.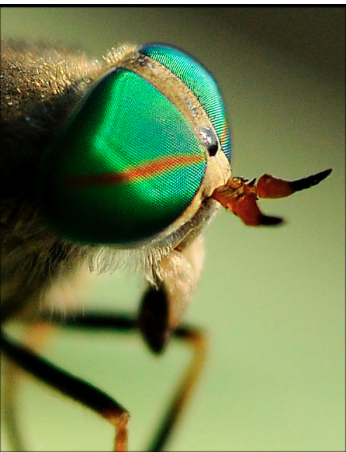 Despite the beautiful intense emerald-green head stay away!  Time to head to the beaches on the South Shore. You have been warned.
On a delicious note: Look at the yummy treat I had the privilege of trying this weekend. Small  delectable chunks of parmesan and romano cheeses. Drizzled with honey, and sprinkled with fresh black pepper. Creating this dish is so easy, The longer it sits at room temperature, the more flavor with each bite. Serve with olives, and crusty Italian or French bread. Perhaps even a strawberry.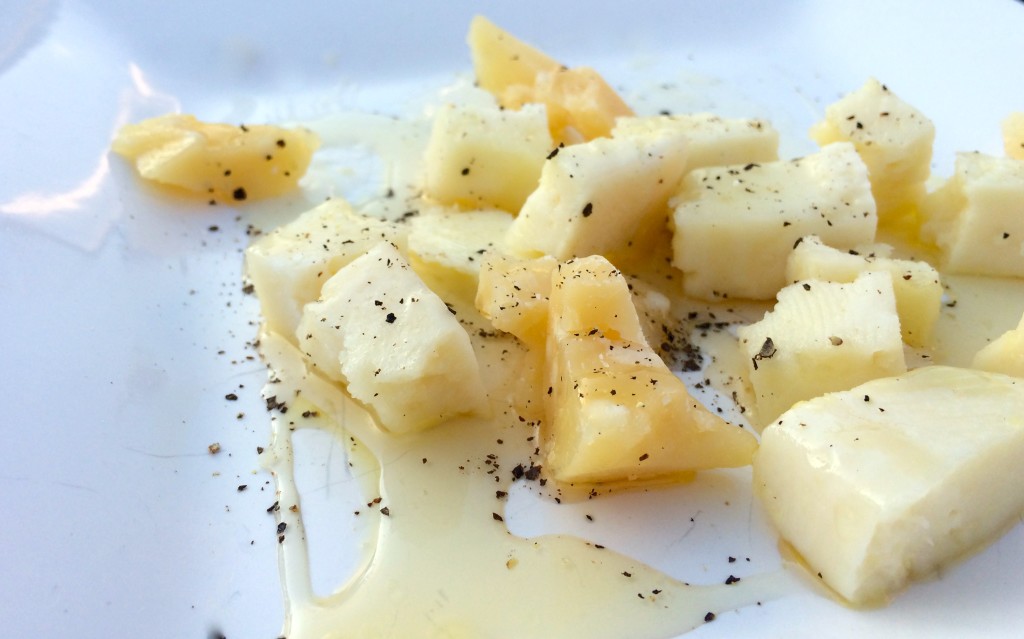 It is such a joy experimenting with the flavors this season has to offer. Colorful berries are bursting with flavor. They just are ready to be picked and served. They really do want to "show off" their magnificent vividness right now. A very dear friend mentioned  of blackberries, and peaches. I took it upon myself to experiment with this colorful contrast and created a salad. I added baby arugula, mozzarella balls and fresh chives. Look at this beautiful bounty. I substituted white balsamic for red wine vinegar.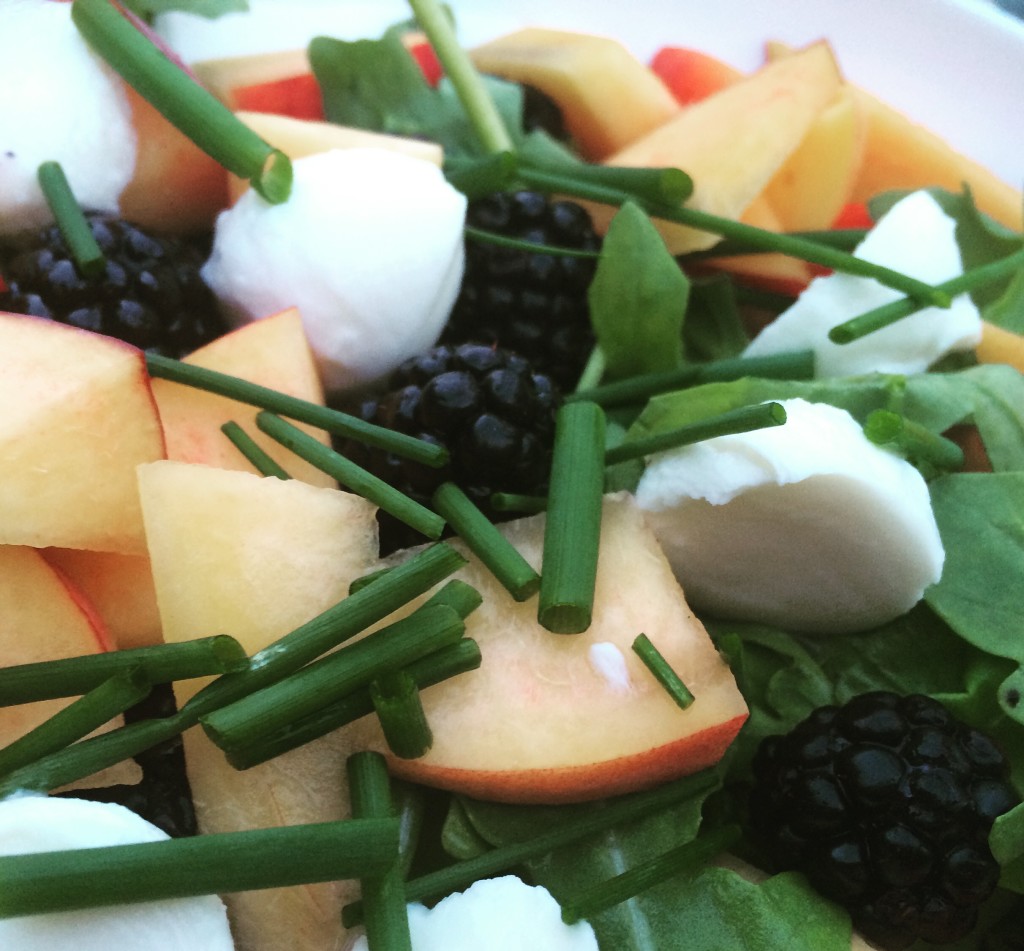 A lovely, light, yet provocative vinaigrette.  Using Country Style Dijon, salt, pepper, and 1/3 cup olive oil that I had sautéed with fresh chopped shallots. These little devils simply swam in the olive oil on high, the moment they began to burst, I removed from the heat. In the mixer, goes the mustard, about 5 tablespoons of vinegar, salt, pepper, a dash of oregano. Then whisk in the olive oil permeated with shallots.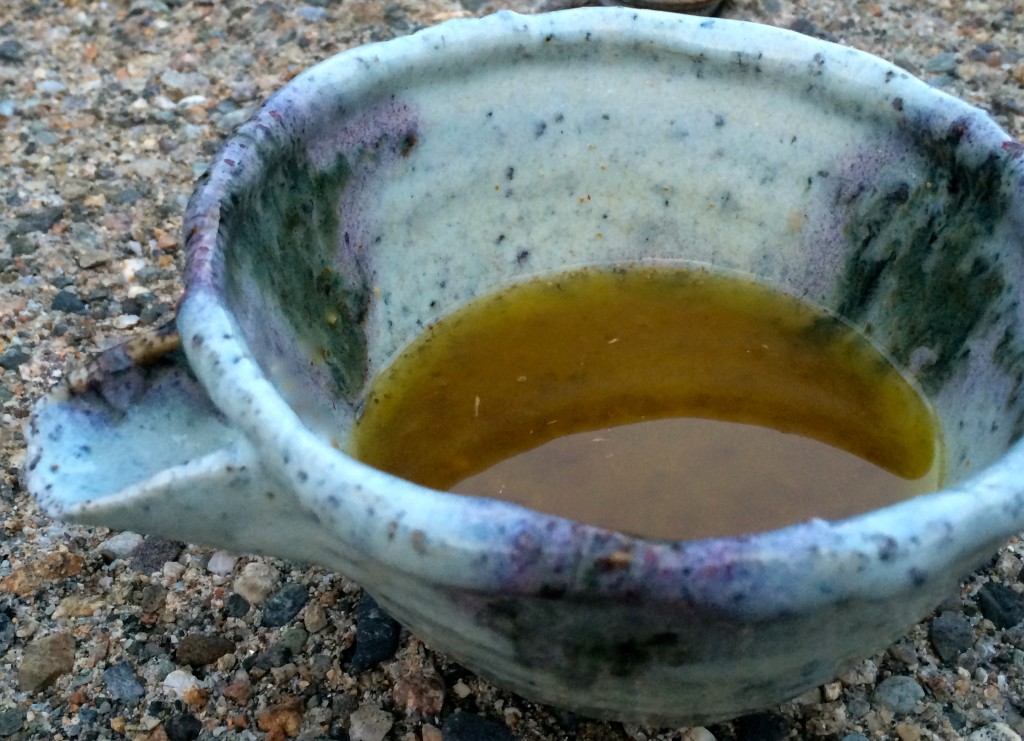 Doesn't the golden color look inviting?  This salad dressing is light and can be used on a bevy of summer dishes.
The next photo reflects a tomato dish that I created last summer, and each time I make it, there is another revision. Cooking to me is rather like painting. It's all about how I feel at that given moment, for what will predominate the dish. This one has oodles of chopped in half Cherub tomatoes in red and golden-yellow, chopped celery, chopped English cucumber, chopped fresh chives, capers, ground lemon rind from the whole lemon. The "dressing" is nothing but olive oil, once again with chopped garlic this time. I heat about 1/4 cup of olive oil, chop about 5 garlic cloves finely, and then heat it all. Once again, as the garlic begins to dance with the heat, in the pan, I pull from the burner. The results, I have discovered, are best when refrigerating upon finish, then pulling out about 30 minutes before you are ready to serve. Gorgeous!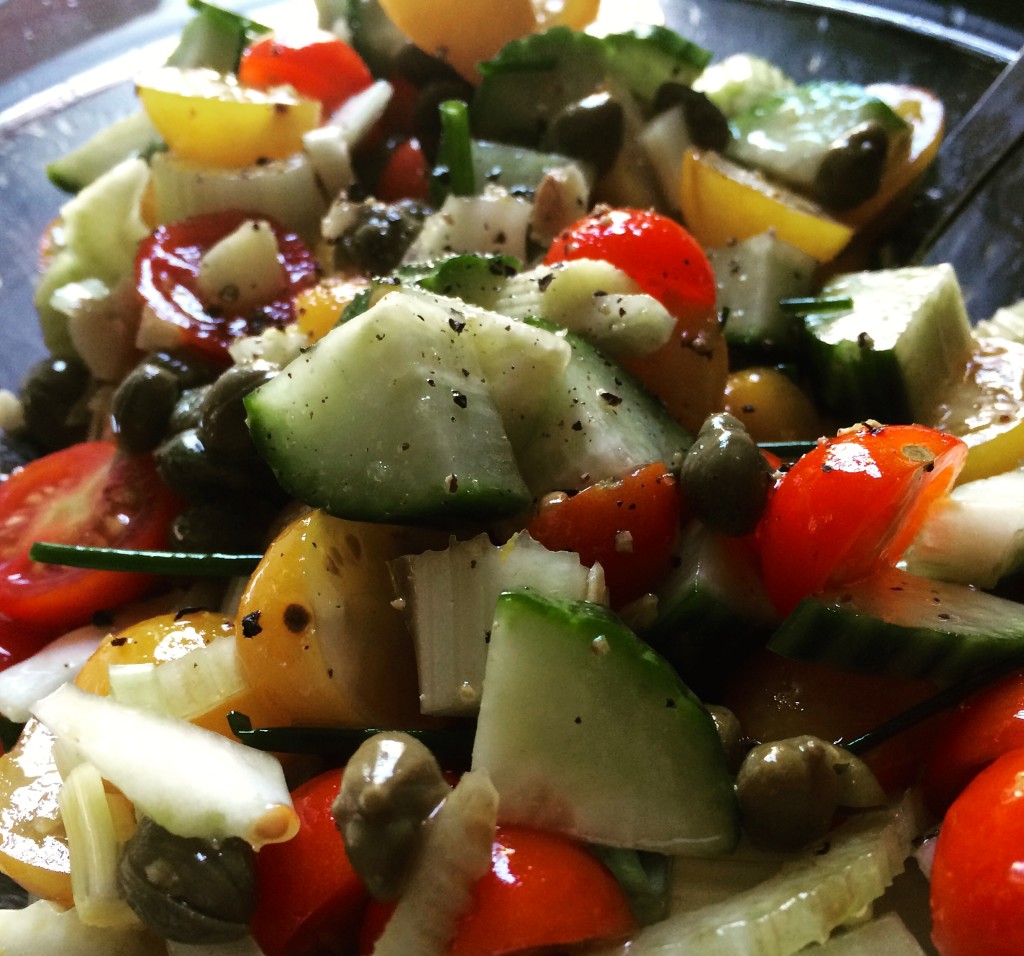 As we meander through mid summer, which I'd rather not end, find myself having to tolerate the sounds of the low humming compressor from all air conditioners everywhere I go. I don't like them, use them or need it. I do look forward to air peace. The constant drone of the noise drives me utterly crazy. It fills my head with noise, and causes irritability. I  regretfully  admit.  Yes, perhaps that noise and the Greenheads are my biggest complaint about the summer months.  Hark! I peer outside my window in the evening, then run outdoors briefly to join the Fireflies. Any temporary discomfort I tune into,  fade as I dance amidst their magnificent symphonic light.  Mid Summer's Night Dream: Fire Flies in July.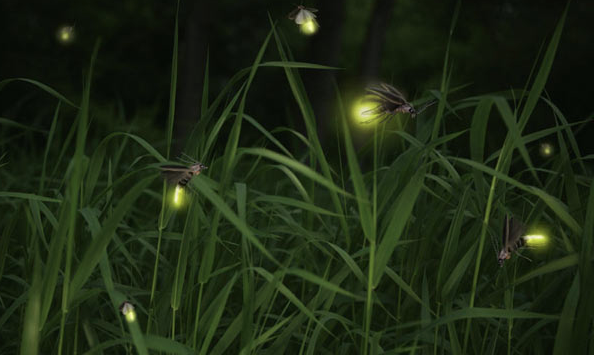 I do look forward to crisp air.  In my industry, July is the last of relaxation, in a sense, since it's the precursor to Autumn.  Several capsule collections will be in store by end of August, beginning September. I truly am excited about this. Woman can not survive on gems alone. They certainly help, however in more ways than just one. A verbal tease of what's to come; Rich Edwardian Velvet from Lilith, Sexy embellished bags from Jamin Puech, architectural taffeta from Matthildur, deep jewel tones from Majestic, frivolity from Lunn, to name a few. The photo below represents a piece from Icelandic designer, Matthildur. Just love her wearable taffeta fabrics! Her designs and fabrics really are movement inspiring.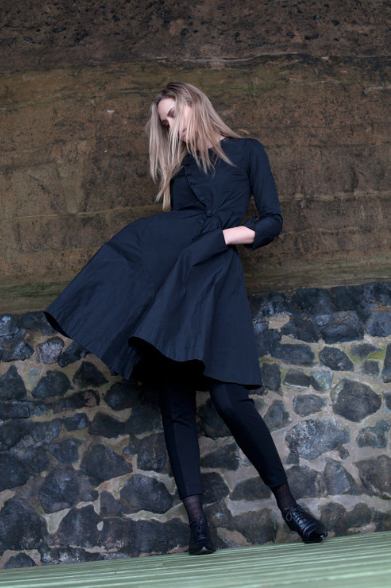 I've been busy designing jewelry this summer. In my past blog journey posts, I usually discuss the stone of the month, this one being Ruby; July's birthstone. However, we all know how in love with rubies I am, but I felt the urge to share something new. Upon several personal requests from clients, I am pleased to announce an edition to Nymph: Herkimer Diamond earrings. See description below.Herkimer Diamond Earrings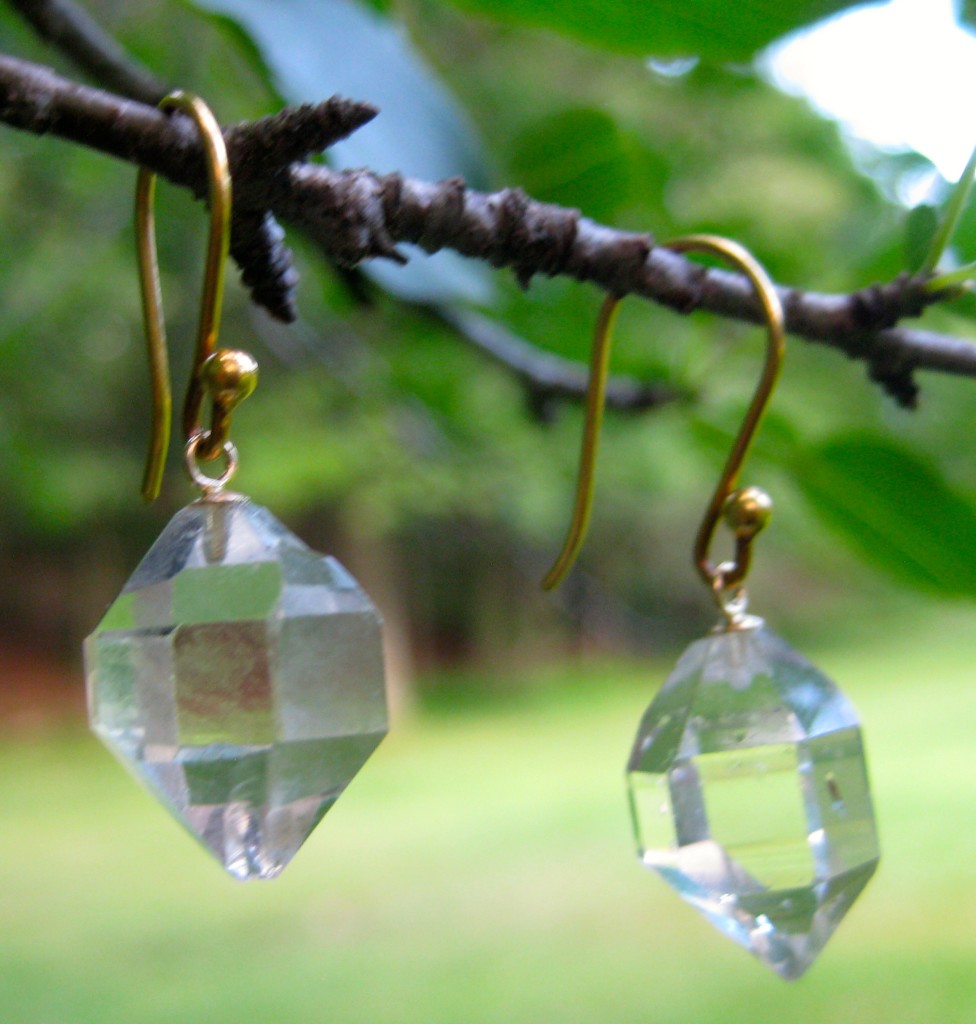 These earrings are suspended on an 18k gold ear wire. They measure approximately 1/2″. As stated above, no two are alike, but I have calibrated the pair to become one in harmony with each other.
Herkimer Diamonds are actually crystal quartz, but their facets unique. They imbue the sense of diamonds. These raw quartz crystals are mined exclusively in Herkimer County, NY. They are believed to be nearly 500 million years old, each stone has naturally formed with eighteen facets, six sides, and two points (double terminated). While they are not actually diamonds, they earned this nickname for their diamond-like shapes. The diverse crystals come with a number of mystical inclusions, which add to their value and character. Each stone is uniquely formed.  Herkimer Diamonds are ascension stones; they will take you to the highest spiritual vibration possible while still being in your physical body. This stone energizes, enlivens and promotes creativity. They enhance telepathy, and memory. Herkimer Diamond is a detoxification stone. If you click on the link above the photo, it will take you directly to the site to purchase. You can also find them at my shop, MATSU. Check Facebook for summer hour revisions.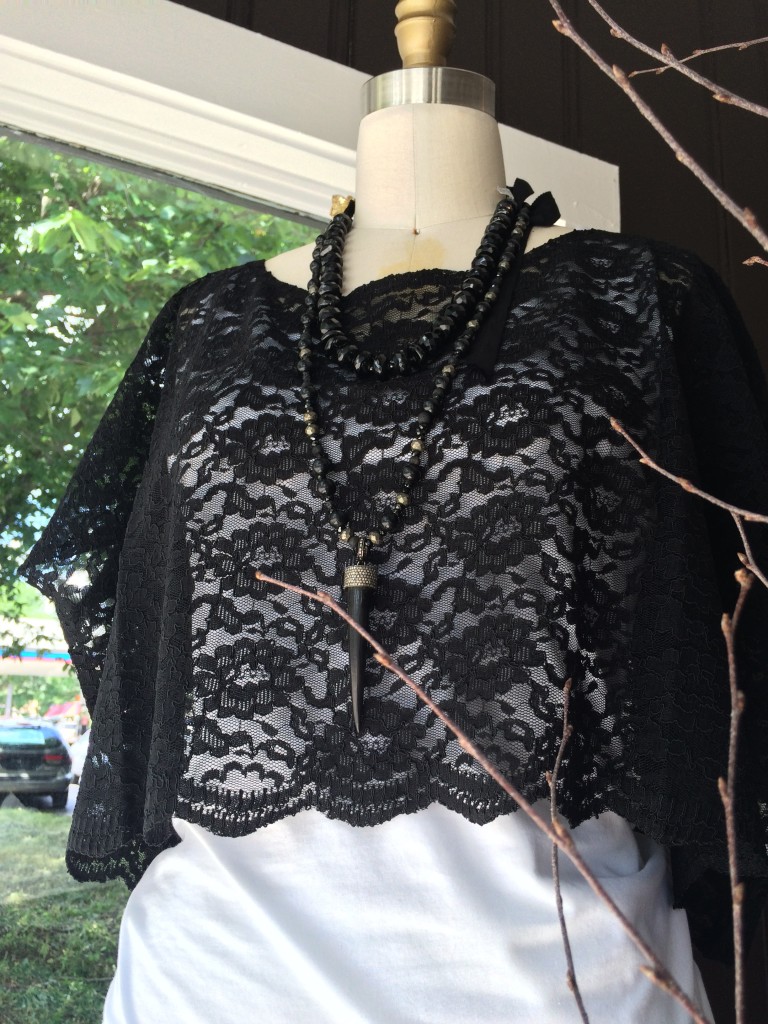 The little lace frock shown above is a wonderful accessory to wear over just about anything. It's cropped swing shape is flattering. I truly look forward to sharing the Capsule Collections I have on order, which will begin to appear late August. From Lilith, I fell in love with this Edwardian Blue Velvet series, Matthildur has  ( Icelandic designer formerly ELM )designed a charming collection of wearable clothing offering ease and elegance in taffeta, and jerseys. Fresh from France, Jamin Puech never comes short in their signature embellishment styles in handbags, Majestic brought back bordeaux, which thrills me. Just to name a few  designers  I can't wait for you all to experience these lush fabrics and unique designs in person, in MATSU coming this Autumn.
Please feel free to call for a private showing. I am also happy to offer hosting a party for you and your intimate friends at the shop. We can create something unique. I will be offering events, this fall. Stay tuned.
Enjoy this beautiful weather.
I hope you have enjoyed this journey, designed for you!
Yours in joy,
Dava