What winter? This season has definitely made it easy for us to move around  in an uninhibited fashion. This rare weather has cooperated with us resulting in less fear around falling icicles or black ice, just to name a few. As a result of this mild winter I've been fortunate to experience the ease in traveling. No storms brewing to delay flights etc. The first journey, begins with the New York Gift Show Accent on Design, held in early February. People shop and scout replenishing their empty stores as a result of the Holiday mayhem. They are creating while re inventing their look for the season upcoming. The same holds true for those with e-commerce sites. It's always a thrill to help these buyers and possibly inspire them to purchase items they may not have known existed before! This is a very creative period for us.
For this season,  we went with a malachite effect on the walls.  The deep green hues were applied in a way that gave the walls an authentic gemstone like effect.  This could  very well become our new signature color. We basically created a 4 day Pop Up shop. Then the tear down. The complete process is a lot of work, but very fun, stimulating  and inspiring – especially seeing  the buyer's positive feedback. Our wares include hand-made brass table top utensils, seen below, several candle collections, skillfully crafted make up brushes, porcelain cell plates as seen on the top shelf in the rear of the booth, to name a few. I begin to wind down, and travel back to the Boston area once the show is over. Then the processing order time frame begins.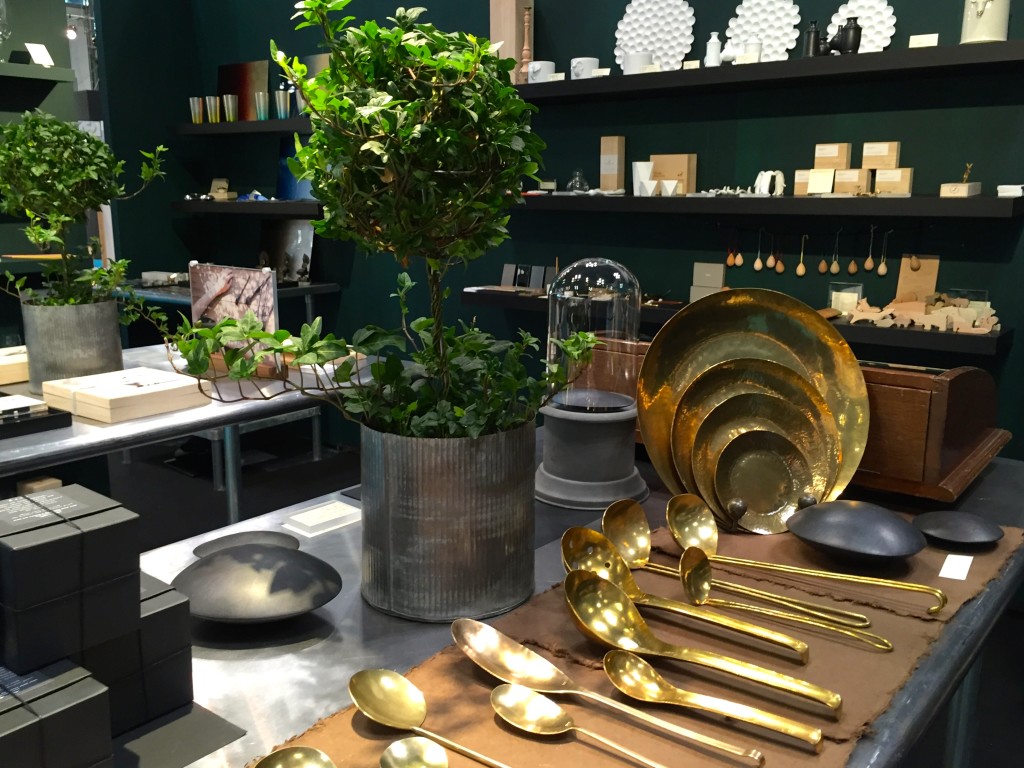 Three days later, I wind up in a place I have promised myself for years to attend. This year I did.
I found myself in 87 degree dry heat amidst the mystical gems of the Tucson Gem Show. The vibration and frequency from this show continues to resonate within me.  I think the crystals were performing their magic! I know I felt it! How could one not?
The single terminated crystal quartz  display below is one of millions shown. These are the most common type of crystal, with a single six-sided point at one end. They are used to charge the chakras or to disperse negative energy. Crystals remain extremely popular for their beauty and therapeutic healing properties. Clear quartz crystals hold the vibration of White Light. As we open our higher chakras we become receptive to that Light and to the crystals that embody it.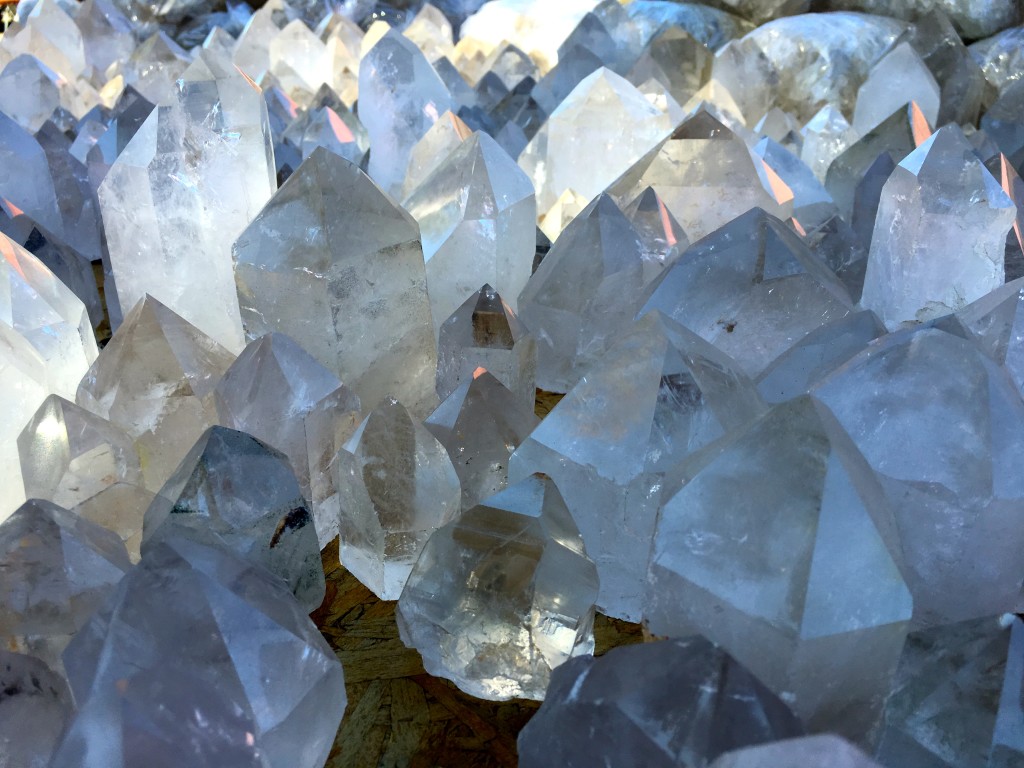 On my journey, the next discovery was such an unexpected find. As many of you may know, I have been incorporating Herkimer Diamonds into my collection of Nymph. They are diamond like, due to their natural facets and their clarity. How do they grow? I wondered. What does it look like?
Here, above you can see a large chunk of Earth. The Herkimers have lodged themselves into the crevices of this mass. They are discreetly suspended within the crevice. I have an example of this at MATSU so you can actually see it with your own eyes. Herkimer Diamonds are raw quartz crystals mined in Herkimer, New York. Believed to be nearly 500 million years old, each stone naturally formed with eighteen facets, six sides and two points. The diverse crystal appears with a number of mystical inclusions, adding to their value and character. These stones are ascension stones. They can take you to the highest spiritual vibration possible while still being in your physical body. This stone energizes, enlivens and promotes creativity. Below I show a finished piece of jewelry as an example. From Earth to  body adornment. These beauties swing from 18k gold ear wires. They catch the light with every movement. These are available with many more styles on their way. If interested please contact me!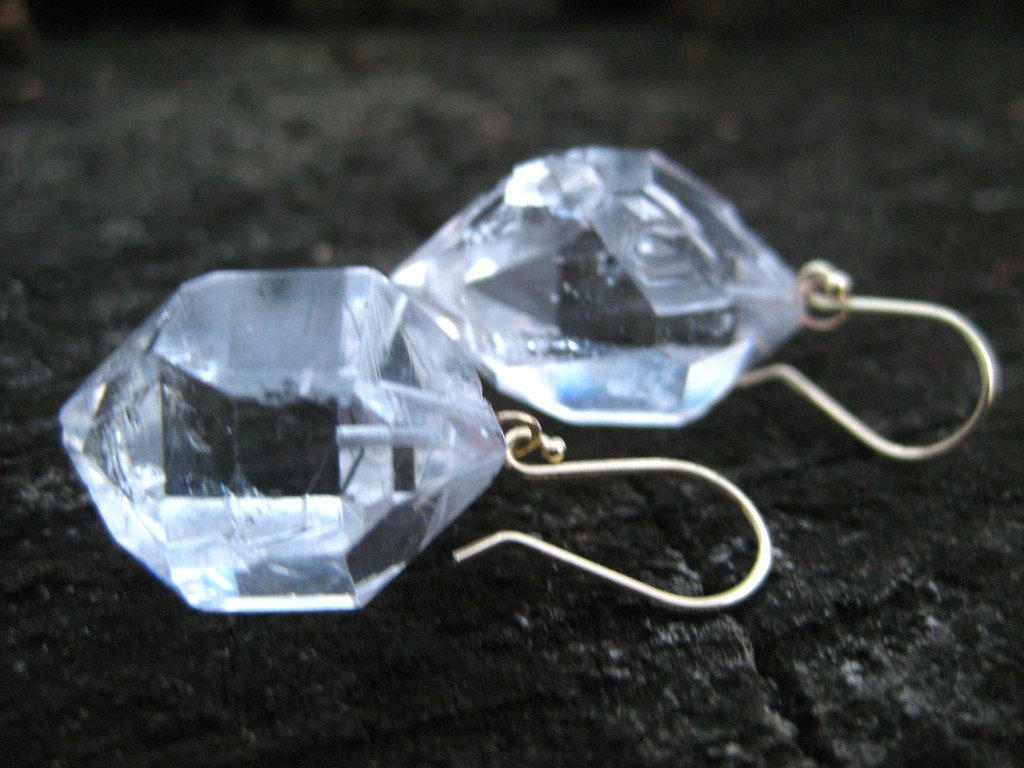 The grand finale for me was my acquaintance with this enormous gemstone. Cool to the touch, feeling a sense of security and magic all at the same time, as I hugged this beautiful rock.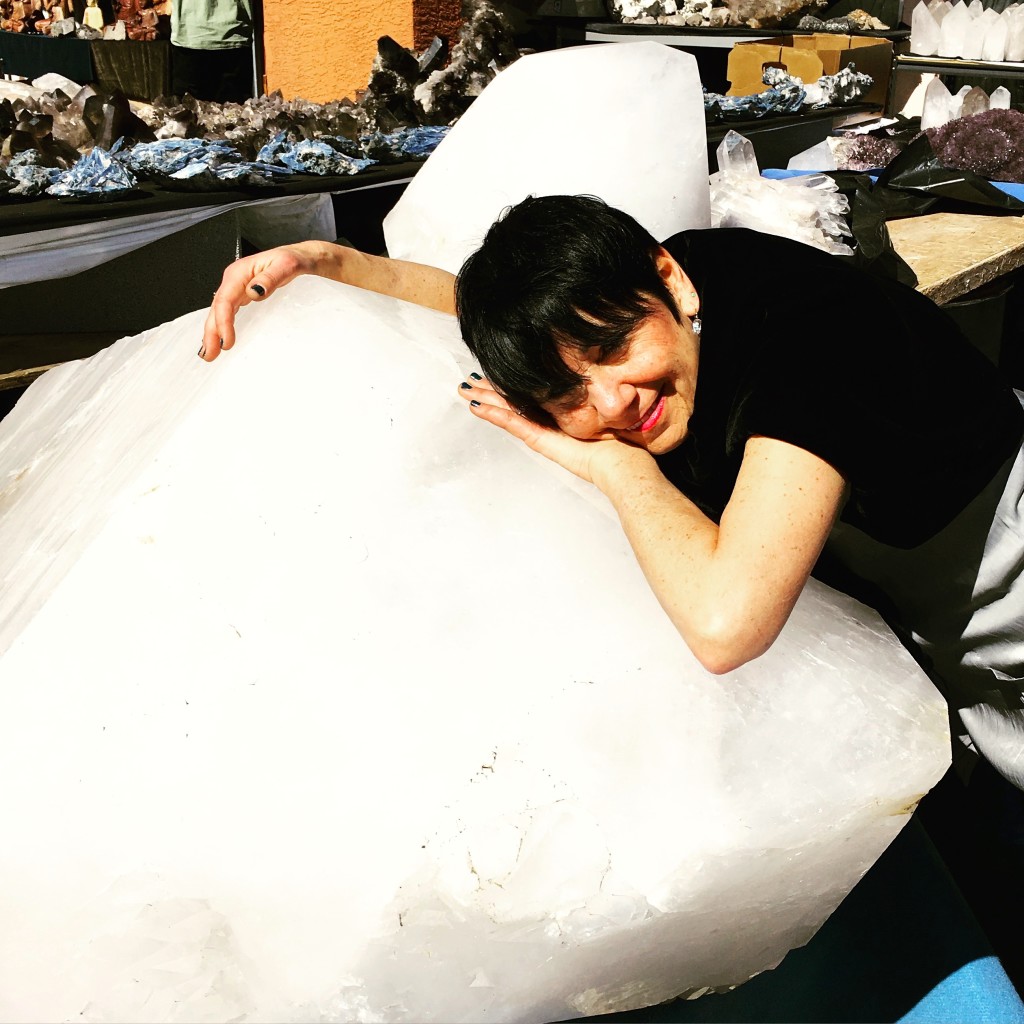 Time to go. Heading North by car, it was impossible not to gain sight of the terrain. So different from the East Coast. Dryness, cacti and arid vegetation all over and forever it appeared.  I had the sense that John Wayne or Clint Eastwood were about to gallop out in front of my car on a horse being chased.  To my disappointment, this did not occur. Instead I feasted my eyes on all of the  new scenery and simply enveloped the vegetation. I knew Sedona was near, but it wasn't until the car seriously approached these majestic mountains that I was completely awestruck. Looking like an oil painting, I had to pinch myself into reality. And, yes it was indeed real. This trip was so inspiring on many fronts. So much beauty, right here in the USA. Before I take you back to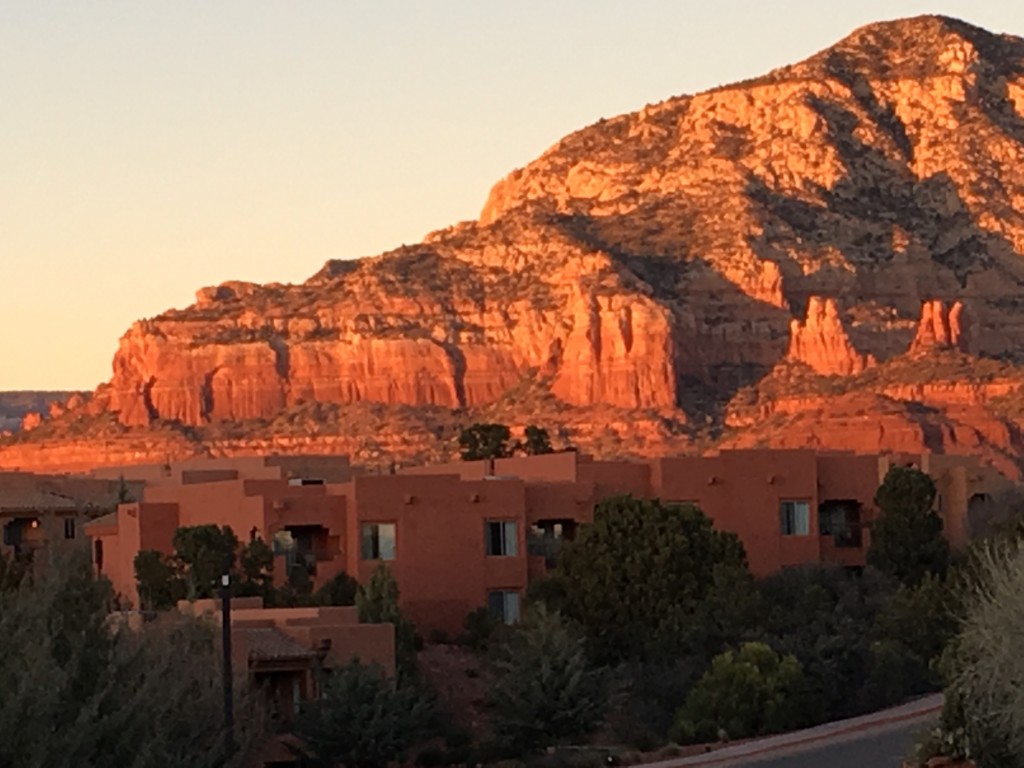 East Coast reality, please allow me to share this unique dining experience in Sedona. Driving by, my eye caught this amazing rustic structure. It sits high up on a mountain and if that isn't enough.. the spectacular views from the veranda and dining room makes a creative canvass for the unusual them and menu. MARIPOSA;  A Latin inspired grill captivating nature surrounding the grounds as it also entices the stomach. It was truly a delicious experience. I strongly suggest you visit this or any of Lisa Dahl's other dining establishments when in Sedona. You may click on the link http://mariposasedona.com for additional information. The food, views, service and hospitality was spectacular. I grew very fond of JB Mariposa's Maître d' rather quickly. His gracious demeanor and charm was just enough to inspire me to share this with you.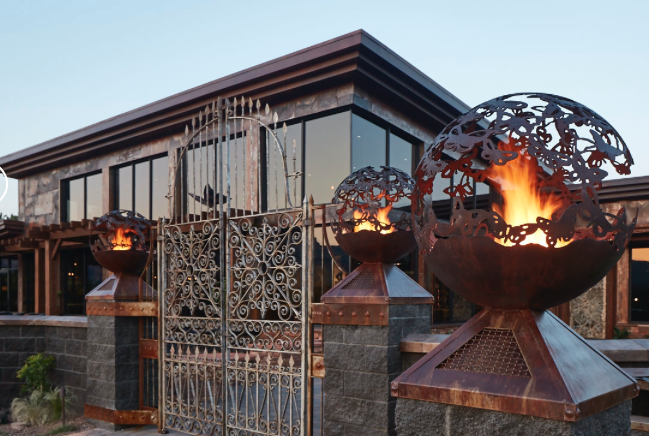 And the view from the veranda.. Simply breathtaking!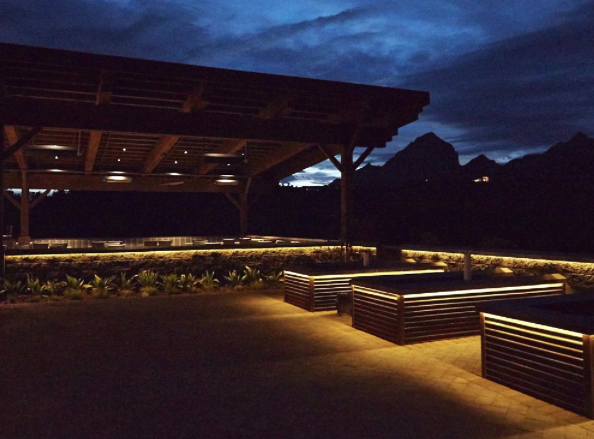 Next up: Fashion Coterie. Market for Autumn/Winter 2017. Back to East Coast fun.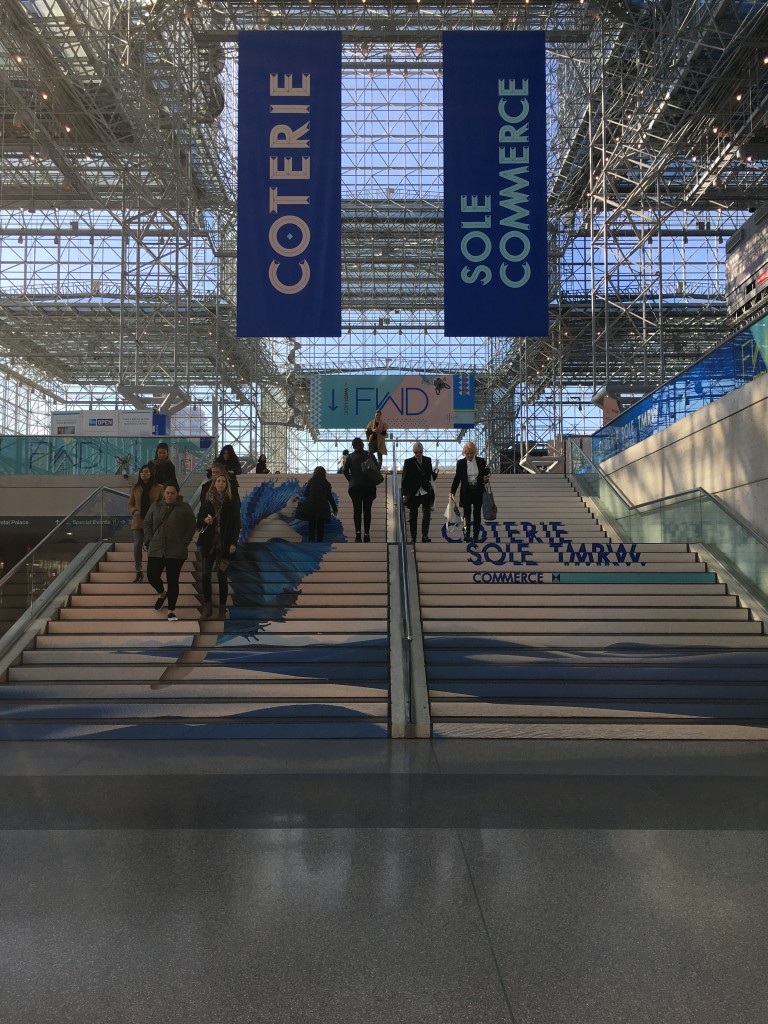 With arrivals beginning in late July, I chose the hues, shapes, textures and styles for the next season. Ordering 6 months out. I was so excited about the tones I saw. It's been a while that deep midnight blue has appeared  in fashion. I was delighted to see it in the collections done  by most of the designers I was attracted to. You can expect seeing that tone again at MATSU, in combination with Ochre, Deep Green, Bordeaux, some bright shots of deep Pinks, and finally harmonizing all the tones a deep Charcoal Grey appears. Harmony! Look at the bevy of color below. These scarves are all designed in Paris, made in India. They each tell their own story.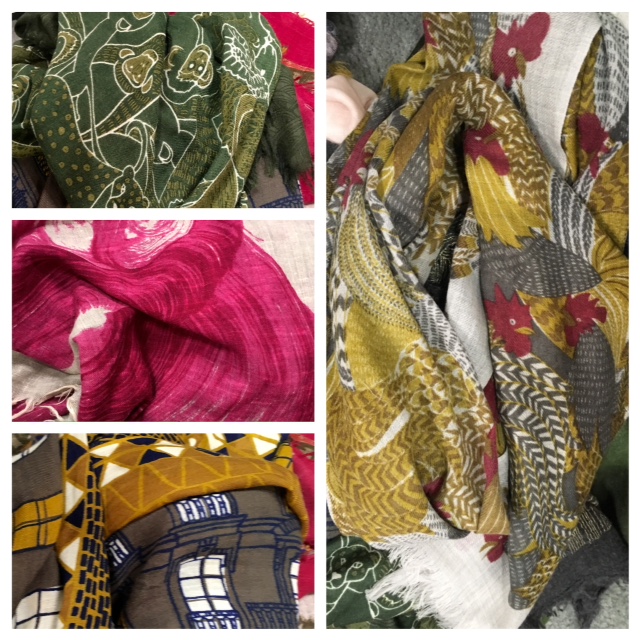 On the Nymph front, I would love to share one of my newest pieces. It's a locket filled with diamonds! I've paired it on a simple sterling silver oxidized chain. The choices are 18 or 32″. A small garnet briolette is the "garnish" accent for this piece. It's brand new, as I've just turned out another collection. Most of it is complete, just waiting for the weather to break so I can shoot outdoors. Do you like it ? It's royal, rich and brings creativity and enhancing the new directions your goals are to take you.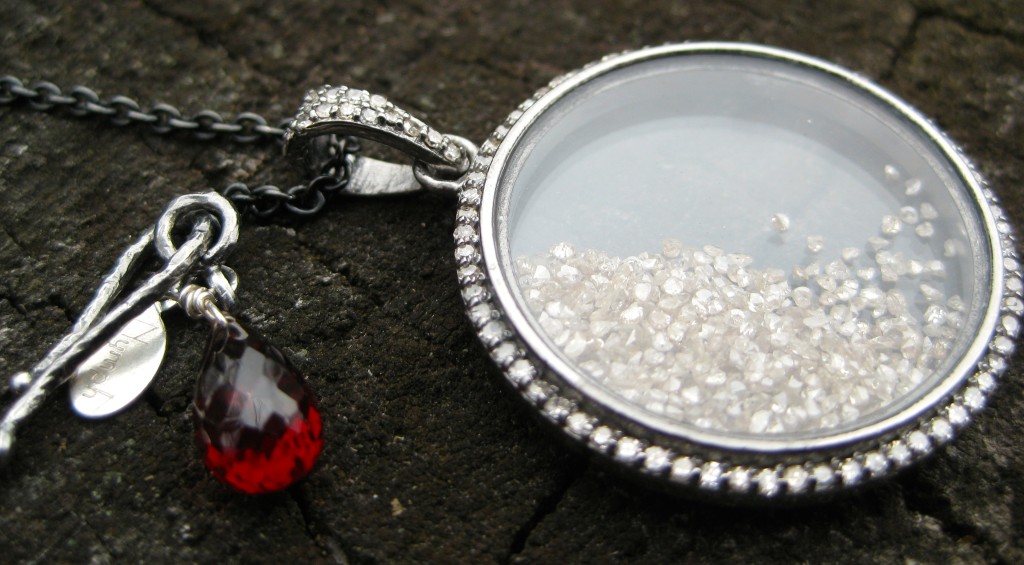 What would my blog posts be if I didn't add some nutrition? I made this last night. Salmon in Parchment. The flavors simply melded inside the parchment. Cooked at 375 for about 45 minutes. The original recipe from Martha called for leeks. I thinly sliced leeks, tiny red tomatoes, shiitake mushrooms, added fresh tarragon, black Moroccan olives, salt, pepper , olive oil, drizzled white wine, sealed the paper with – staples, and voila! Delicious. All the flavors permeated together and the end result was simply amazing! Served with sautéed okra with garlic and shallots accompanied by wild rice. Yum!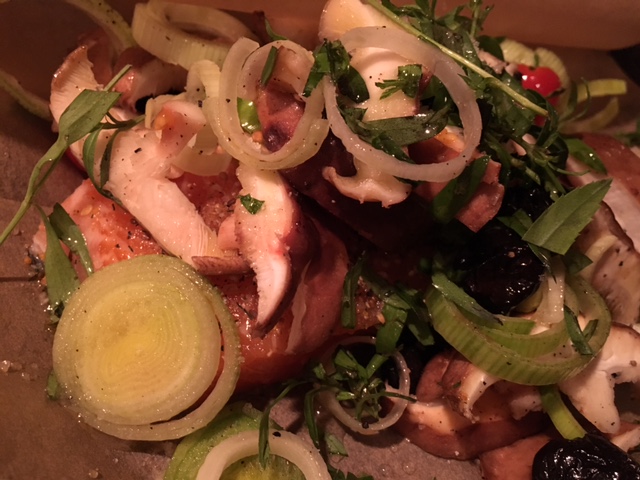 I started out with a shorter concept, but it kept growing. How can I leave anything out ? I can't! My goal was to share my experiences with you, and I hope you enjoyed them. I look forward to hearing from you all!
Can't wait to see you again in my shop once my abbreviated hours are revised. Until then feel free always to give me a call. I am happy to meet you at 92 Boston Post Road, in Sudbury. Here is my number. 617.510.6369
Yours in joy and style,
Dava