Summer, I'm so sorry to see you leave! Actually, I lied. I am thrilled to see you fade. Your presence, these past several months, conjured way too much havoc on my soul. Too much heat. Too much fire. Not enough water. "Completely out of balance," said my soul. I love you Summer, but am happy you've disappeared. For now. Sun, you are beautiful, especially during your sunrises and sets. You offer such pleasantries morning, noon and night.  The sunset below was on  the Fourth of July glowing over the Boston skyline.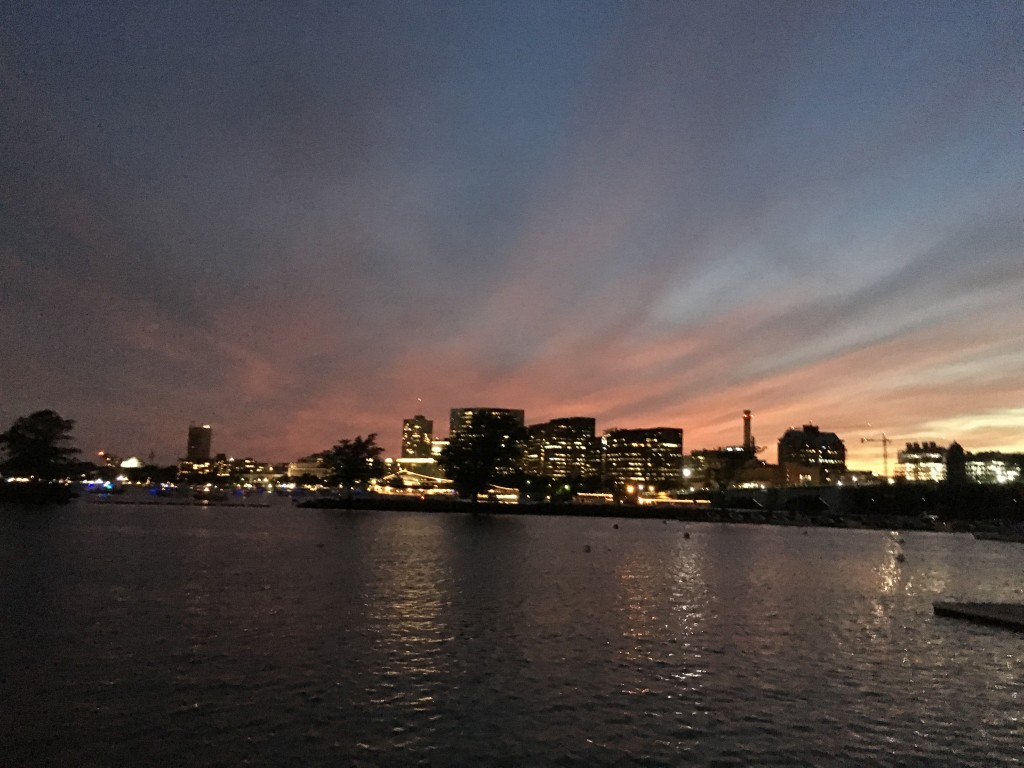 Autumn, you are more than welcome!  Nothing stagnant about you. You are feisty as you move and change. You're air brings a sense of crispness and finite freshness every day. You're offering of such radiant colors  appear to be overflowing from a cornucopia.  The Autumnal palette is  captivating and  visually addicting. Everywhere you look this time of year, there is a promise of vibrancy and intesity. A visionary or artist's most desired dream.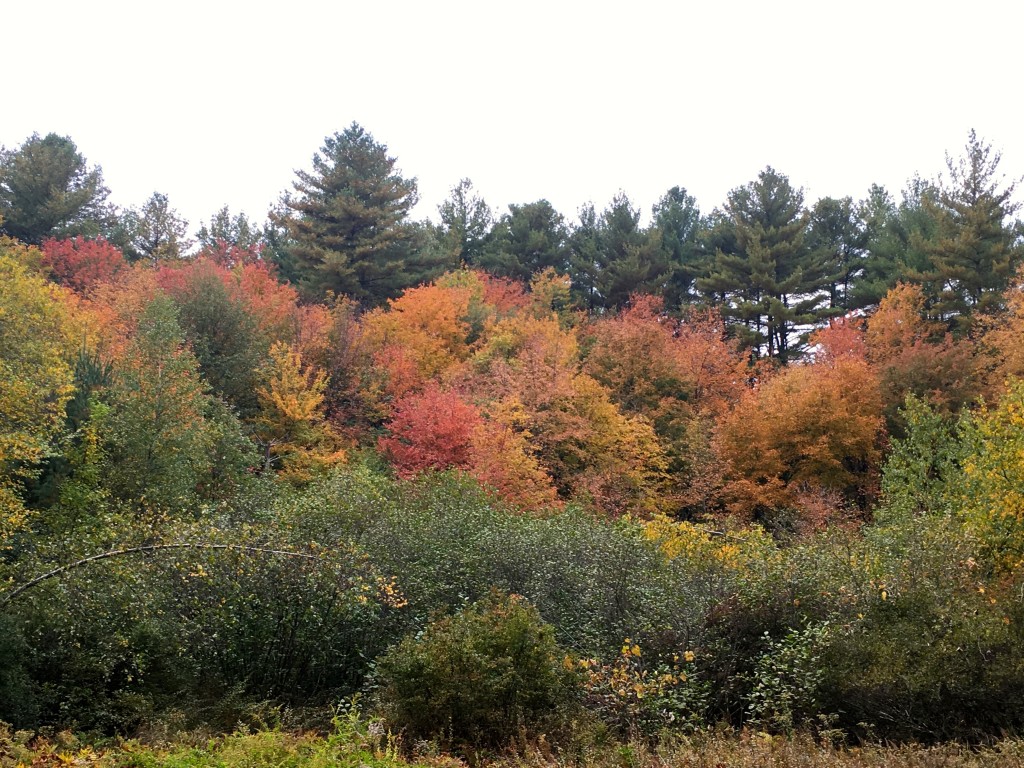 I am in love with you, Autumn. You offer so many different elements which enamour me. You are easy to embrace. You're knack for titillating the senses, despite the time of day inspires me. Early morning- crack of dawn beauty the most subtly obvious. With it, comes  Dew. Fog. Clouds. Haze. Mist. The photo of the candles below portray our newest addition to our candle series. This collection is entitled VAPOR.  They are $30 each. 60 hour burn time. Beautifully packaged, and poured here in the US. These soy candles have a cotton wick, offered in 4 different scents.  Each one more delicious than the next. Here are the titles, their tag line and scents.
Dew- Glimmers of Promise- olive, lavender, eucalyptus, hayacinth
Fog- The Mystery of what's Hidden – cassis, citrus peel, fir
Cloud- a hint from the Sky- lavender
Haze- Before Clarity Comes- cedar, jasmine, fig
Mist- A light kiss at Dusk – A light kiss at Dawn- cucumber, watercress, mint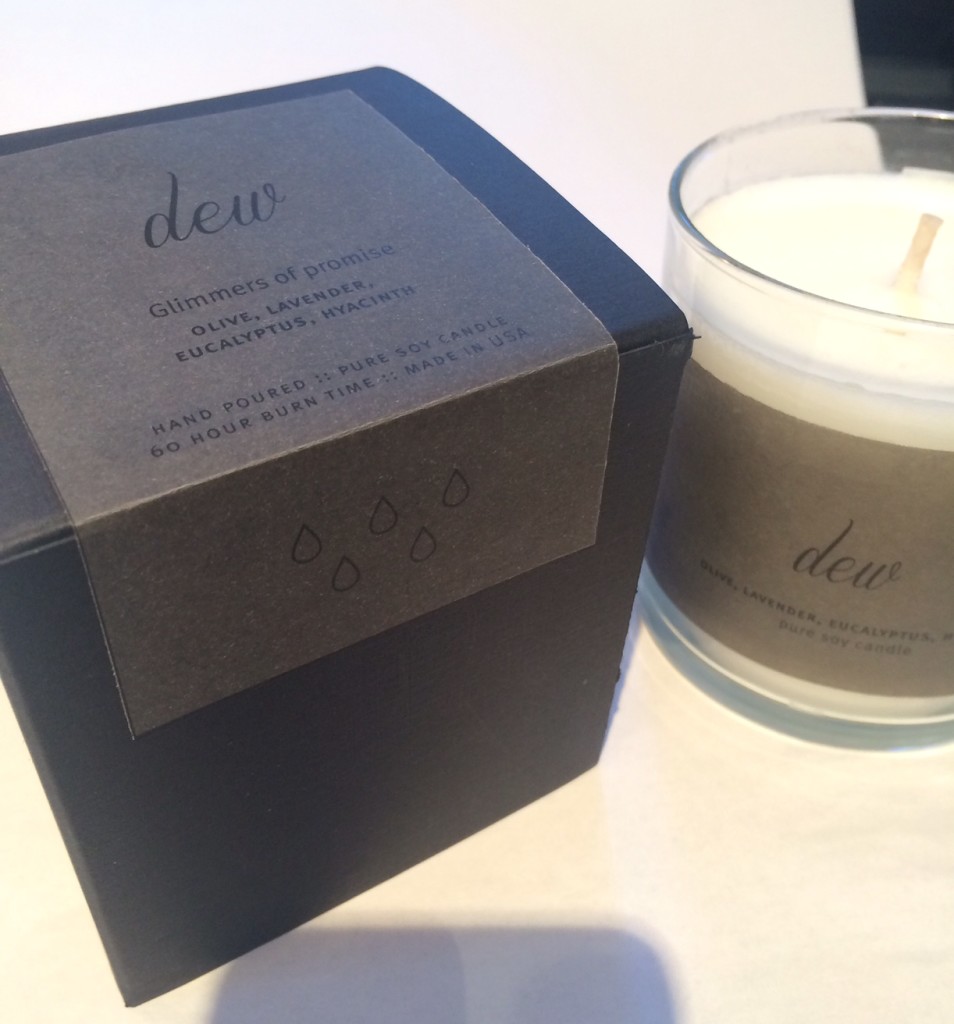 In keeping with this season's tricks are not only the great Pumpkin, but also some beautiful specimens of Squash. And so the story begins. Pumpkins and Squash are a fruit. They are nutritious, and versatile. They offer seeds, flesh and flowers all of which are edible and rich in vitamins. The notion of carving pumpkins into jack o' lanterns  originated in Ireland hundreds of years ago. Back then, potatoes and turnips were used to carve them. When the Irish immigrants arrived in America and discovered pumpkins, the Halloween ritual was born. The photo below shows all sorts of squash and pumpkins. All are edible.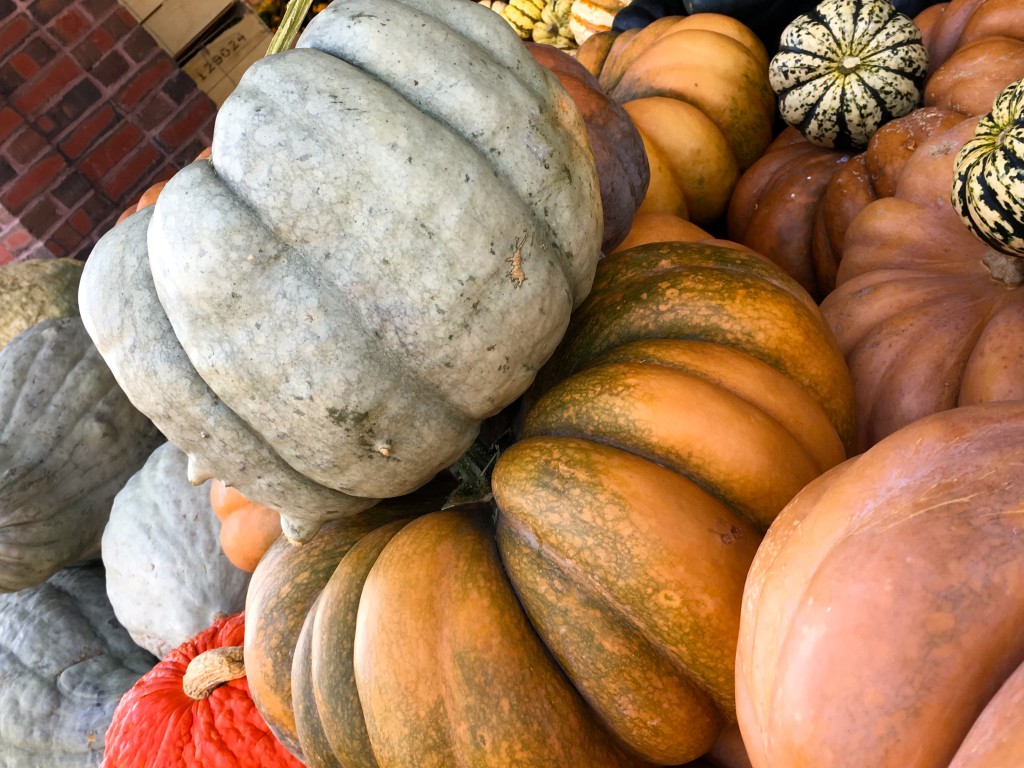 Pumpkins and squash are low in fat and sodium, high in fiber. They are good sources of Vitamin A, B, iron, protein and potassium. The varieties of these fruits seem to have increased in recent years. Each year, they seem to become more and more elaborate. Who knew?  Cinderella Pumpkins, Cinderella Squash, Blue Doll Pumpkins, Fairytale Squash to name a few. All unique in character.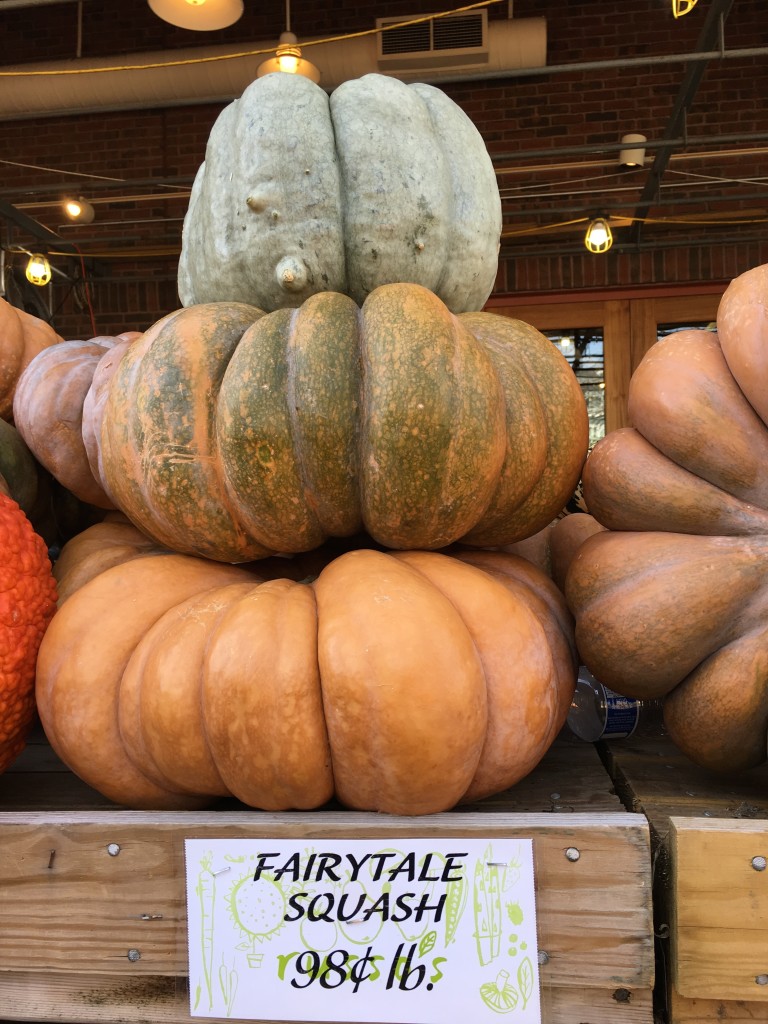 The tonal offerings during this wonderful season never cease to amaze. Down below are what is known as Porcelain Blue Doll pumpkins. These exotic, eye-catching beauties are a haunting shade of blue with deep-set crevices distinguishing their personality.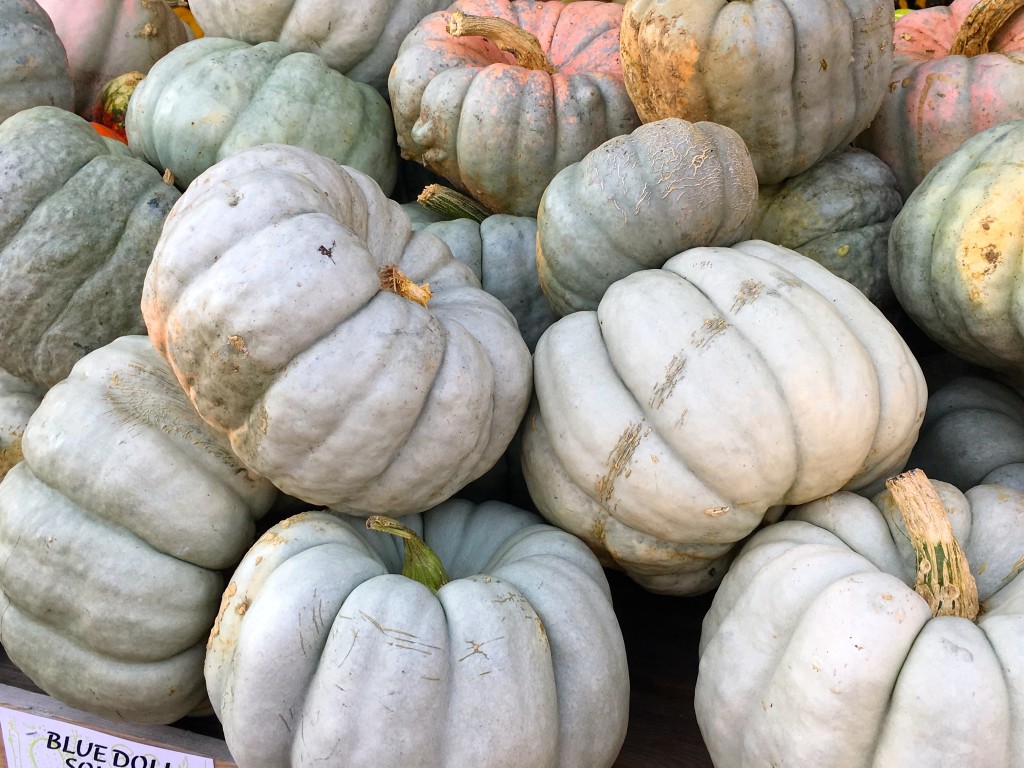 My favorite recipe is roasting these fruits. Either butternut squash, or pumpkin diced small, piled onto a foil lined cookie sheet. Add diced eggplant, sliced fennel, mushroom medley, tomatoes, garlic and shallots minced. Sprinkle a generous amount of olive oil over the mixture, along with basil, oregano and parsley, French salt, black pepper.  Roast at 350 degrees. The flavors will meld together. While they are all roasting, be sure to turn gingerly with a very large spatula in order for the flavors to become dispersed evenly. Voila. I made this the other night, and a few days later added cooked long grain wild rice to the vegetables. The texture took on a new presence, and the flavors got sent into another dimension. Absolutely delicious!  Try it! The photo below shows butternut squash medley mixed with wild rice, boasting flavor and texture.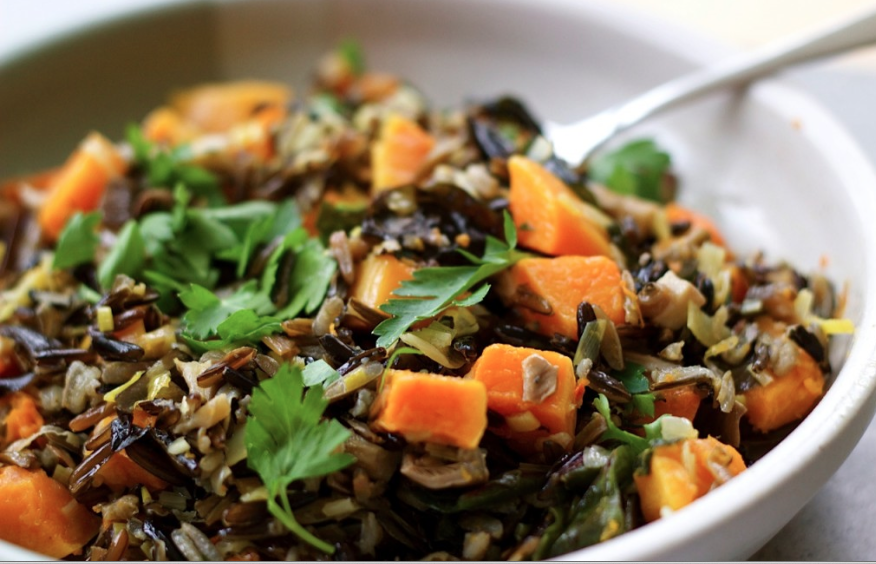 OCTOBER BIRTHSTONE… You lucky Librans! You get to choose between the traditional Opal and the alternate Tourmaline. Opals are beautiful because each gemstone is adorned with a one-of-a kind color combinations. Tourmaline is one of the most radiant gems in the market. It is a bit more contemporary with out the old lore as many other gemstones carry. Tourmaline is known as the peace stone. It is known to dispel fear and create a calmness for the wearer. It promotes inspiration, happiness and builds confidence. Available in a myriad of colors and various tones of greens, brown, aqua, deep teal, and rose-pink, red, violet, orange yellow and black.
 Fresh off the press, may I introduce you to Delilah.  18k gold, tourmaline briolettes and a large rutilated quartz creates this beauty. This Nymph piece will delight your eyes and adorn your neckline. The various tones of these faceted  gemstones dance around and in between each golden bead. The clasp in the back is also 18k gold. There is something so magnetic about this necklace. It is 16″long, and has the fluidity of a knotted strand of pearls. https://www.etsy.com/shop/nymphjewelry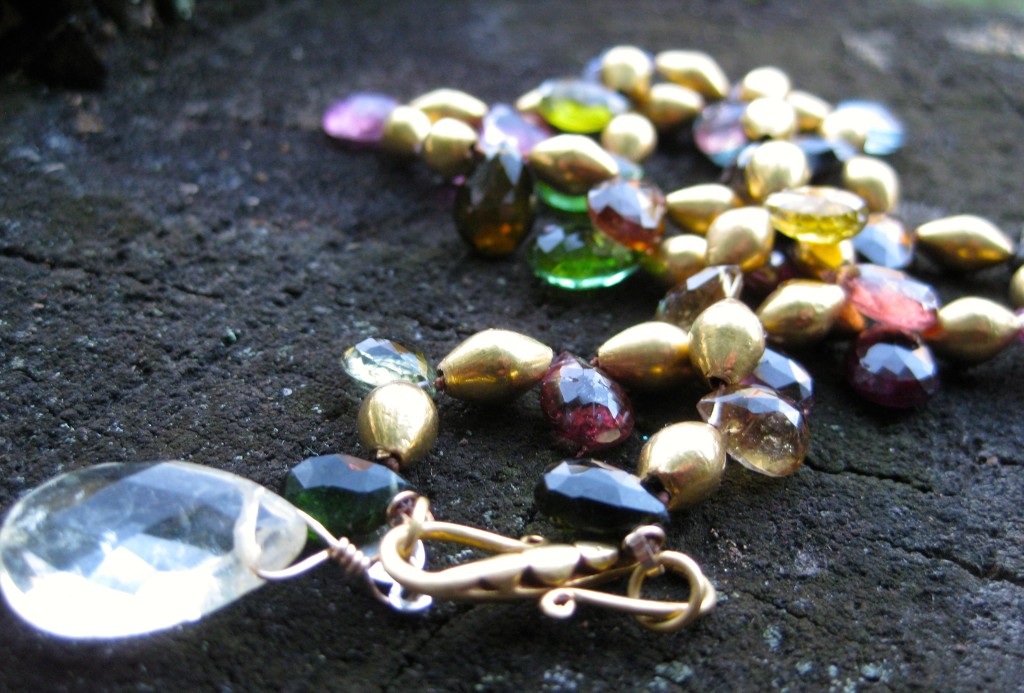 I leave you with the following thought. Thank you, Mr. Rumi for your inner kindness and wisdom.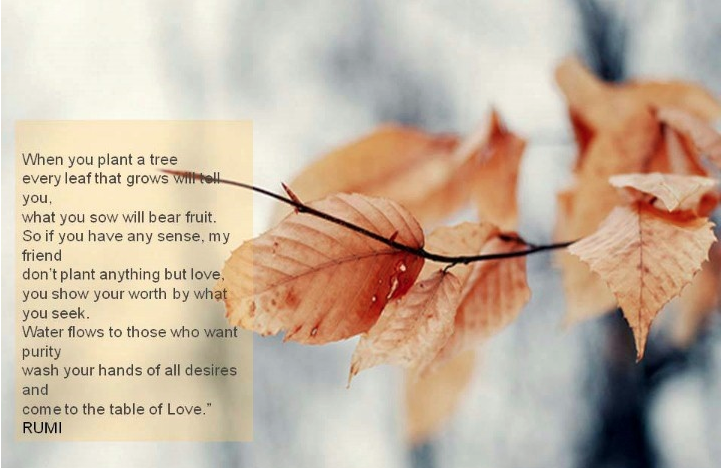 I hope you've enjoyed this journey. If you are interested in purchasing any candles, or gems, please feel free to contact me! I look forward to hearing from you.
Yours in joy,
Dava,