November is full of Glow. November is known for election time, now over. Known for time changing. Deeper, longer nights as the dark settles into our mid afternoon pleasures. We had an unexpected guest from the Celestial heavens above this month.The Super Full Moon occurence this month has intensified everything. Did you have the opportunity to land your gaze on that voluptuous beauty? If you'd like to read more about this super Full Moon, see Jill Jardine's  news letter below. It describes the celestial activity we are experiencing now.  If you saw the moon, you'll know how compelling the sight of it was.
"Tensions build through the Full Moon in Scorpio -Taurus which occurs on November 14 at 8:52 am East coast time. This is a Super Full moon, which creates inner and outer pressures. The tides are high and there is a pull on our bodies and psyches. The Taurus/Scorpio axis rules value systems, resources, finances, security, gain and loss. People may feel insecure at this time. Money markets may fluctuate, and it's time to find security within. During this full moon cycle the planet Neptune conjuncts the South Node in Pisces. This is a very spiritual placement, but also can dissolve ego and unveil delusions and illusions. Boundaries are blurred, and the shadows of victimhood, escapism, addiction, and codependency are prominent. Realities are melting and blending, and the non-physical and spiritual realms are close at hand to assist at this time." Jill will be availabe on November 27, here, along with Nymph Gemstones, and some gift giving suggestions. Invite is  below.
November does have a glow about it, despite the early onset of darkness. Light abound and the sun a plenty has grazed us with her rays frequently. It nearly feels like this past summer still lingers.
November's namesake is derived from the Latin word for nine (novem)- being the ninth month in the Roman calendar. This month traditionally holds the Topaz as its birthstone. On more modern front, however Citrine has picked up speed. This yellow quartz stone varies in tones from deep honey, to butterscotch, and then even a paler version of both. The healing properties are very interesting. I love Citrine. I am drawn to their energy, and their color. The stones can behave as a neutral, working with all skin tones.  Below is a new piece I've just completed. Look at the warmth!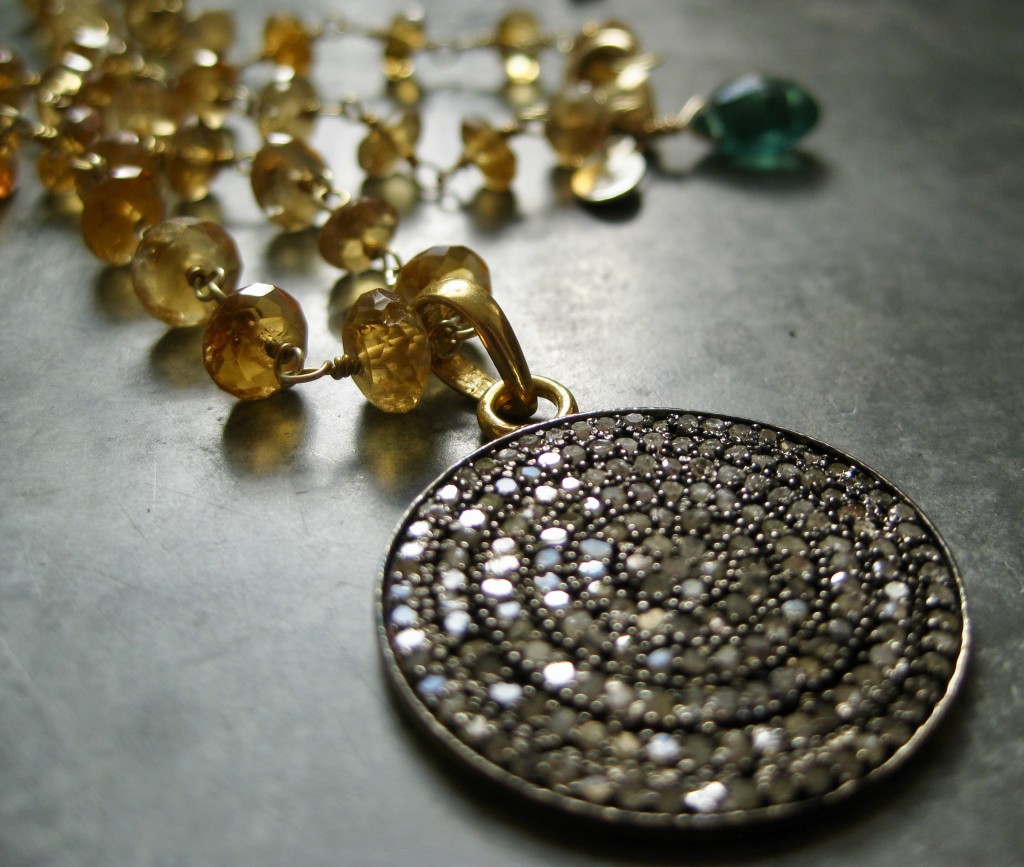 The earrings below are also very new. Not even up on my site yet. Just released. They are glowing. Just like the month!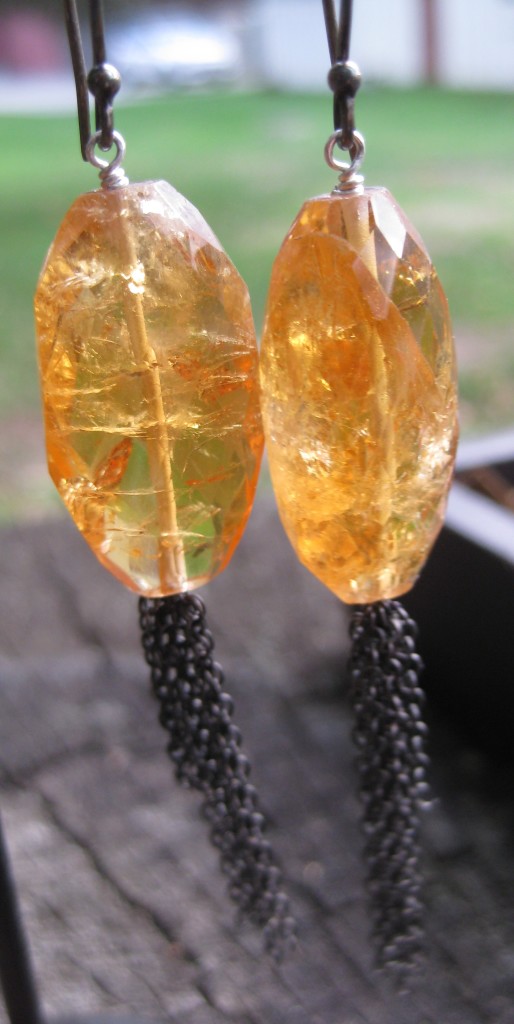 And another. This huge chunk of a citrine is suspended from faceted tourmalines all linked with oxidized sterling silver. The weight of the Citrine must be touched to believe. A talisman, for sure!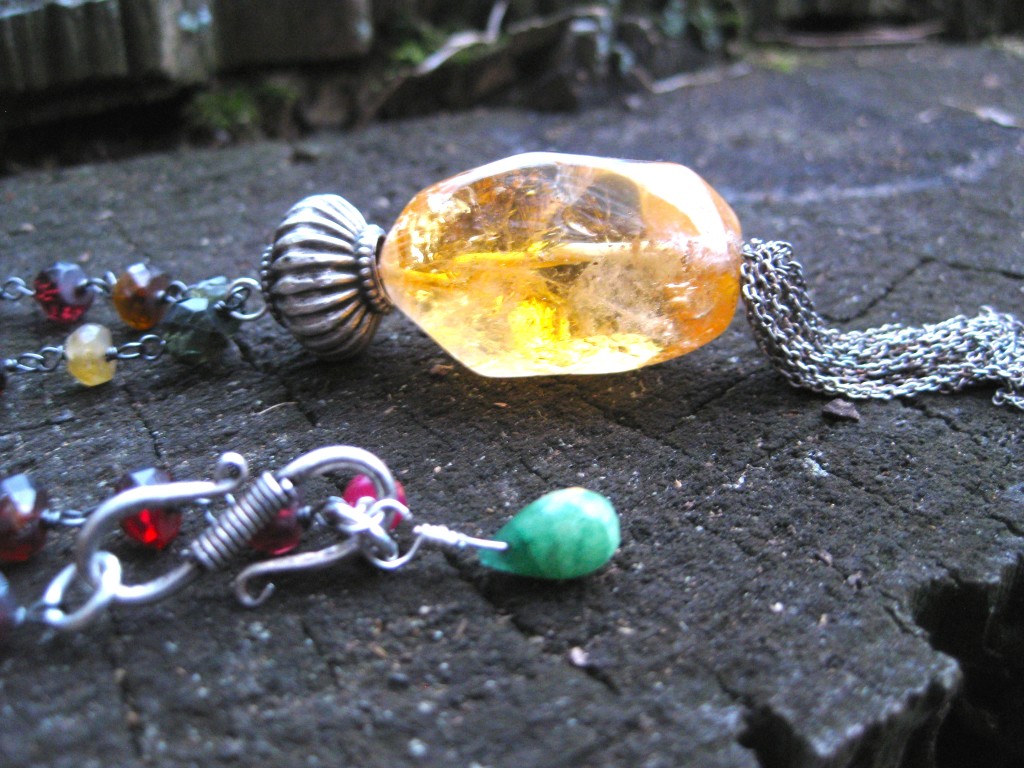 You see, wearing this stone any time of year, but specifically now, as darkness arrives earlier in the day, can bring warm sun energy into the body, mind and the soul. Seriously! In modern terms, Citrine is known to provoke a sunny disposition as it encourages individuality, self-confidence and the courage to face and enjoy life. It makes us dynamic, inspiring new experiences and the desire for self-realization.  As you can see in the above glowing photos, Citrine looks like the sun. It definitely holds that energy.
I am offering another opening at my atelier. The invite is below. Opportunity once again, and with the Holidays near, perhaps you can steel away some time on November 27. I'd love to see you.  Don't be confused… Matsu will always exist. It will morph, and for now, it resides in my heart and in Weston. Don't forget! If you'd like a reading with Jill.. contact me to reserve your space.

In my other world, of all things MAJESTIC… An event is in the works at the boutique in  Bloomingdale's. Stay tuned for specifics. Immediately, here's what's happening ! What a nod!
Click on the link below!!! Exciting!
Should you have any questions about gems, Nymph, Matsu, open house, Majestic or life… I'd love to hear from you! Don't forget.. If you'd like a reading with Jill Jardine on November 27th, please set up your desired time via email with me. 1-4.
Happy Thanksgiving to you all. I hope you have a peaceful, harmonious holiday!
Yours in Joy,
Dava