"…of orient are, bearing gifts we traverse afar. Field and fountain, Moor and mountain, Follow yonder star.
Frankincense to offer have I, Incense owns a deity nigh. prayer and praising, all men raising Worship Him, God most high. Star of wonder, star of night, star of royal beauty bright. Westward leading still proceeding, lead us to the perfect light."
Myrrh is mine, it's bitter perfume breathes a life of gathering gloom. Sorrowing, sighing, bleeding dying, sealed in the stone cold tomb.
O star of wonder, star of night. Star of royal beauty bright. Westward leading, still proceeding. Guide us to thy perfect light."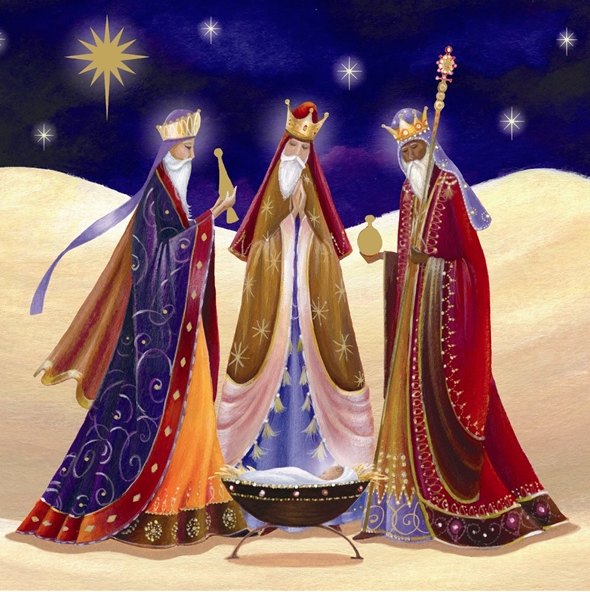 The holiday season brings both, the best and the worse out in all of us. The best can be experienced through laughter, gift giving, and wondrous excuses to indulge freely. On the flip side, it can trigger loneliness, depression and the secret desire to simply run away and hide from shopping mayhem, holiday advertising campaigns and never ending holiday classics on the radio. There are many ways to save your soul during this hyped up, yet beautiful time of year. It's all about your perspective, after all. This is the onset of the dark winter months that lie ahead. Winter is the coldest season, but on the subtle level it's a time of rest, peace, inner focus, stillness and reflection. Life is rich with possibilities; learning how to utilize them during this chilly season is the key to a tranquil season.
I love the rituals and traditions the season brings. The Feast of the Seven Fishes, for example, a typical Southern Italian cultural meal prepared on Christmas eve. I actually do love Christmas music, and first one that comes to mind is what I began this blog journey on-  The Three Magi!  We Three Kings of Orient are; as lore has it,  traveled from Persia bearing Frankincense, Gold and Myrrh to baby Jesus. Despite your faith, these essential oils become more prominent this time of year. It's already understood that Gold is given as a precious gift all year round but actually the value of frankincense and myrrh out weigh that of gold and certainly extends far beyond biblical lore. These essences are derived from plants, which are very healing on an emotional, physical and spiritual level giving meaning beyond the season.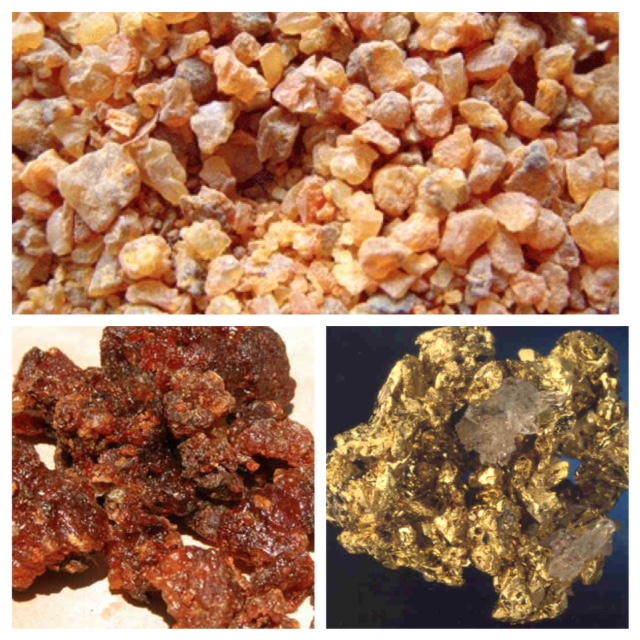 Frankincense and myrrh are from the same plant family and grow as small shrub-like trees in dry climates such as India, Oman, Ethiopia, Somalia, Yemen and Saudi Arabia. The resin of the plants is used medicinally and for spiritual practices for over 5,000 years. Both resins have a multitude of health benefits other than clearing negativity from a room via burning the actual incense, which by the way is even more powerful than using sage for this same reason. These resins are anti-septics, anti-inflammatory, anti-depressant, anti-viral, improving circulation, and as a body tonic. The list goes on.  As you smell the warm rich, sweet-woody scents you will understand the specialty these plant resins offer. They are calming, soothing and relaxing to the mind, soul and body.
Gold on the other hand, is an excellent all purpose high leel gem amplifier and electrical conductor. It helps strengthen never system,digestion and the meridian channels. Attracts prosperity, stores and amplifies thoughts/emotions/energies. It is truly a regenerator, helping to renew nerves. Gold symbolizes sthe purity of spirit.  So, as the story is told, these 3 kings traveled afar and delivered these gifts to baby Jesus. What a magical visit that would have been.
These resins remind me of church as a little girl. I cherish my faith and experience of church. As time goes on, I recognize that when I am feeling low, or zapped by negativity, I simply light a stick of Frankincence alone, or mixed with Myrrh. My mood immediately elevates. I kid you not. The scent can alter the energy in the room.
This season is indeed hectic, but I try to cherish the beauty – decorating with lights, the fresh invigorating smell of pine, and enjoying the crisp air nature has to offer this time of year. This religious and spiritual holiday brings back lots of childhood memories. As 2014 winds down, I find this to be good time to reflect and embrace appreciation for what we have, and how supportive our families and friends have been during the course of the year.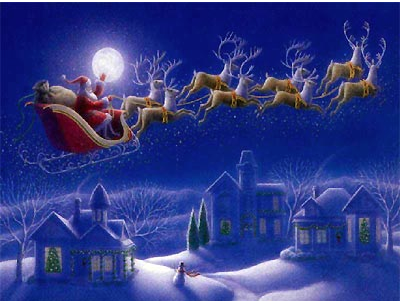 There are a lot of December birthdays, I've noted. We are also approaching the Winter Solstice – the shortest day of light in the whole year! We are about to approach Capricorn, as  Sagittarius wans. Either way, the birthstone of December is primarily Turquoise. We think of summer, naturally, when looking at this magical stone, but the truth is that it is indeed a winter month stone! It's about brightening up your wardrobe energetically with this captivating color. The stones right below happen to be very earthy but the overall hue is indeed turquoise. This December stone is a purification stone. It dispels negative energy- much like frankincense and also myrrh. It can be worn to protect outside influences or pollutants in the atmosphere. Turquoise balances and aligns all the chakras, stablizes mood swings and instills inner calm. It is excellent for exhaustion and depression. This stone promotes creativity and problem solving. It is a symbol of friendship, and stimulates romantic love. The natural energy of this stone helps one to communicate truth.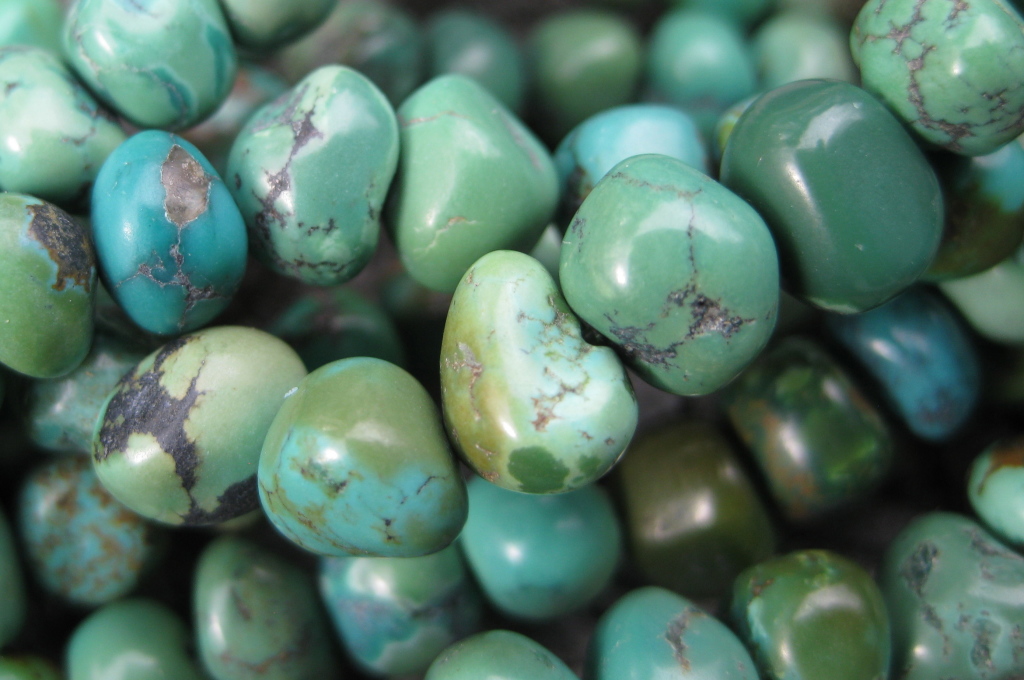 Turquoise aids in the absorption of nutrients, enhances the immune system, stimulates the regeneration of tissue, and heals the whole body. It contains anti-inflammatory and detoxifying effects. The photos below reflect a variety of Turquoise stones. The turquoise used in my pieces are primarily from Afghanistan and the deep green, from Tibet.
The past 11 months I have written about colors, gems and the correlation of foods, nutrients and maybe even a recipe or 3. This month, however- I have exciting news to share- and for those who may have missed the announcement. Here it is!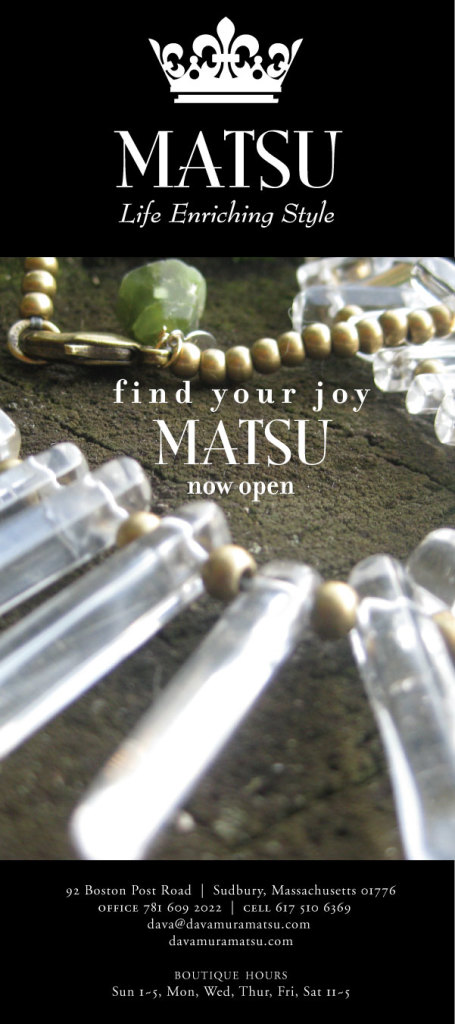 Upon coming full circle, I realize that something had been missing. I have had wonderful experiences, as I mentioned in November's blog, and continue to be grateful for all of them, but when I drove by this little gem of a spot in November, I made a quick u-turn in the middle of Boston Post Road in order to lay my eyes a bit closer on the building. Yes, it was vacant, all right! It sat so still and empty, but I could envision the potential beauty within the space once I began to nurture it " Matsu Style." My stimulating challenge has arrived.
I've been open one week. MATSU offers the excitement of the urban experience with the comfort of home. You'll feel it and see it once you enter this new sanctuary I'm creating. I've included some teaser before and after photos for you to see. I am genuinely excited. It feels like home. (Ironically, as it is very close to home.) Come visit! Like MATSU on Facebook. I thank you all in advance for the warm welcome I have received and for those that haven't had the opportunity yet to visit, I look forward to seeing you soon.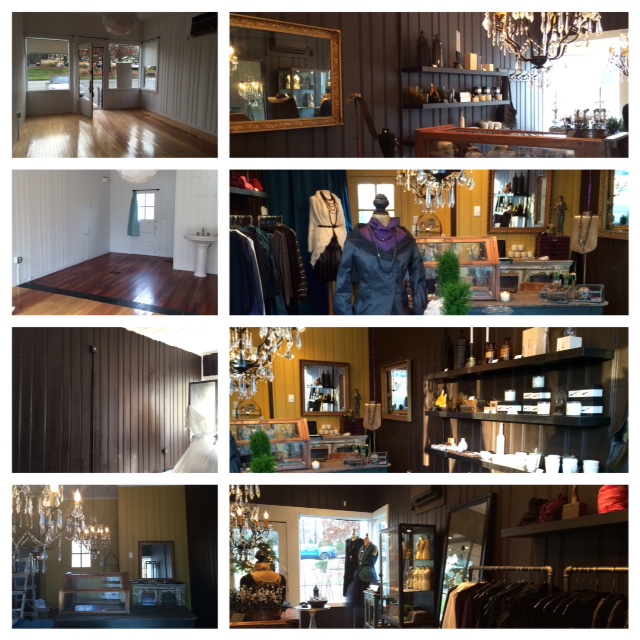 Wishing everyone a happy, healthy and reflective Holiday Season!
Yours in joy & style,
Dava