I love to write about my journeys in life. My commitment is to deliver an insightful  message through my blog. Sometimes philosophical, this time, from a more whimsical approach. After all, we have been hibernating since early December due to our acute weather conditions, this season. I thought using color to brighten thoughts, and daily life would be a great idea.  Purple is the color of imagination and spirituality. February's Birthstone is Amethyst. This stone inspires the healing of all organs and brings about mental peace and a state of relaxation. Amethyst can ward off nightmares and insomnia. This stone is said to aid in the development of your psychic awareness. Bringing feelings of happiness,  Amethyst is a stone of pure love. It is beautiful and spiritual. There are several necklaces pictured below in Amethyst showing a variety of ways I have incorporated the stone into Nymph. You will also see a hand knotted bracelet of matte amethyst spheres. Very wizard like. Click here for more on Etsy.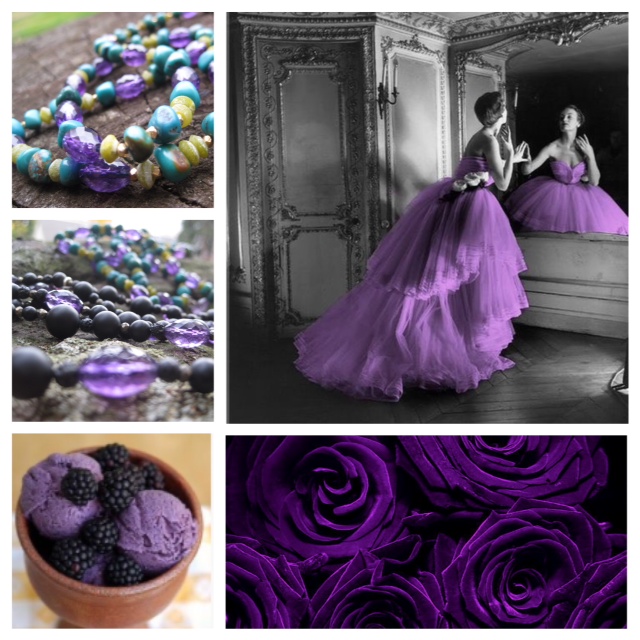 Purple is evident in nature, stones, food, and of course, clothing.
I began conjuring up a couple Pic Stitches with photos I have taken, or discovered. They personify the glory of the dead of winter, but through energy and color. The purple is so juicy and royal.
In writing, I  realized how closely related these two colors are and decided to include them both in this post.  They share the color of passion; red.  Both colors have positive and negative psychological effects. Too much purple can cause moodiness, yet boosts the imagination.  Amethyst increases creativity, promotes love of the divine, balances highs and lows promoting emotional centering. It is calming, nurturing and grounding. From the stand point of clothing and fashion, purple was strong this winter as a jewel tone in fashion.  It pairs well with all skin tones and with all hair colors. It can be worn with chocolate brown, black,  bordeaux, add red to the mix and you have a wonderful combination.   So majestic!  Nature is also a terrific resource to invite purples into your lifestyle. As the Nymph jewelry designer,  I find the offerings vast in healing properties. The energies within the body are also influenced when wearing these stones. Below you will see a couple. For more choices, please click on the Nymph Etsy tab on my site.
Purple is associated with royalty, wealth, extravagance, creativity and wisdom. It combines the calm stability of blue and the fierce energy of red. Shown below are petunias showing off several tones, a triple strand of faceted chunks amethyst necklace,  rare matte amethyst sphere bracelet, and a pile of deep rich eggplant, deliciously nutritious.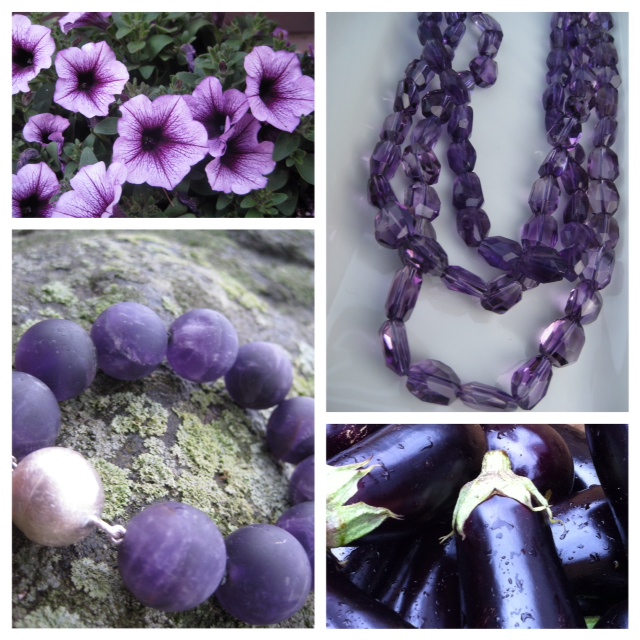 I got carried away with purples in photos that I have shot and discovered, therefore will insert another collection of them here. I hope you enjoy the sights. Nymph necklaces, an opulent gown, delicious desert and a bevy of deep purple roses.
As I began this blog post my mind was on the trends of  Spring 2014. There are many trends of the season, but my favorite is  PINK. Lovers of beauty favor pink. Pink is the color of universal love. It is feminine, calming and peaceful. Tapping intuition and insight, this color is also playful and flirty. Pink. The hot new color of the season. It is  a focus in interiors, fashion, and lipstick; this being the hottest color for the lips!  Flowers are a natural offering, that we often times pass by without thought. Flowers, plants and fruits exude beauty, scent and flavor naturally.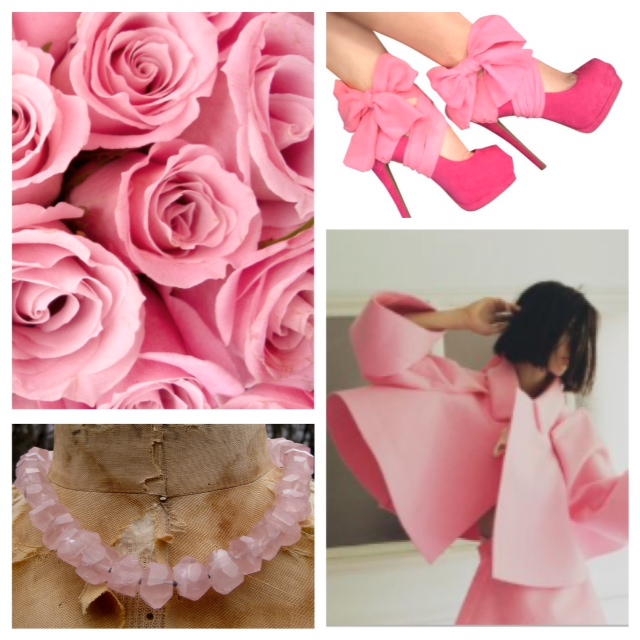 The color Pink is inspires warm comforting feelings. Psychologically it calms our emotional energies and has an underlying sign of hope. This color represents compassion, nurturing and love. It relates to unconditional love and understanding. The photos above echo a variety of Pinks. Rose quartz as pictured in the lower left, is the stone of love. This stone aids in dealing of feeling of both love and grief. This stone deals with the heart. It aids in relationship issues and brings harmony to discord. Also known as the calming stone. Rose quartz is a soft pink gemstone regularly used to preserve beauty, and rejuvenate the skin. 
I could elaborate more on the psychology of both colors, purple and pink, but feel the photos help to amp up the messages that lie within this blog post. I hope you enjoyed the journey!
As always, I look forward to hearing from you.
In joy,
Dava