As the month of March quietly passes through, we experience cooler temperatures again, powerful winds, and even an unexpected snow storm! We've endured four seasons within this one month. Life is not boring in this climate. As the weather acts up and dances through the month, signs of the awakening from the dormancy of Winter begin to poke through the ground. Plants eager to sprout, baby animals coming out of hibernation, and birds of all kinds, including the Robin, which I have seen have returned to their New England roost. We welcome longer and brighter days with open arms.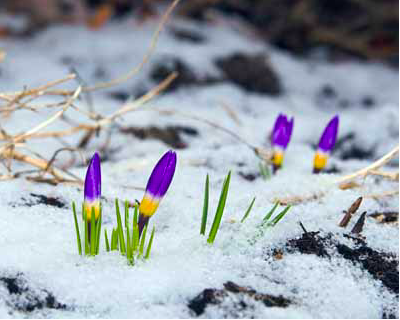 The month of March is the link between winter and spring. We think about fluffy little chicks, delicate pale colored tulips and how about after dinner mints! We begin shopping for lighter tones, in contrast to the Fall and Winter months when we gravitate towards deeper saturated ones, as well as jewel tones. These darker colors seem to provide a blanket of protection on our bodies. Spring, on the other hand, presents all sorts of colors that resemble the spring awakening of Earth. The newly sprouted fresh greens, baby birds hatching out from their shells. A Pastel palette begins to shed soft tones as we welcome the arrival of Spring.  Pale mint, pinks, yellows and greens are all examples of these tones.  The palette is soft, feminine and pleasant to the eye, opening our hearts for the new season embarking upon with the promise of warmer days ahead.
Color is light, and light is energy.  Color can stimulate, and excite us. It can also have a tranquil, calming peaceful effect.  The softer hues of pastels bring forth freshness and emerging energy from earth. These colors combined with neutrals create a feeling of sophistication and earthiness. You can't help but feel happy. This is the time of the year for rebirth, renewal and rejuvenation.  There is also something very child inducing to these beautiful tones. Pick up a piece of chalk, and feel the sensation in your fingers. The results of playing with pastels either on textured paper or even a random sidewalk is freeing.  In allowing your fingers to move effortless, you are tapping  into your inner child. The sensations provoked are worth the experiment!
PASTELS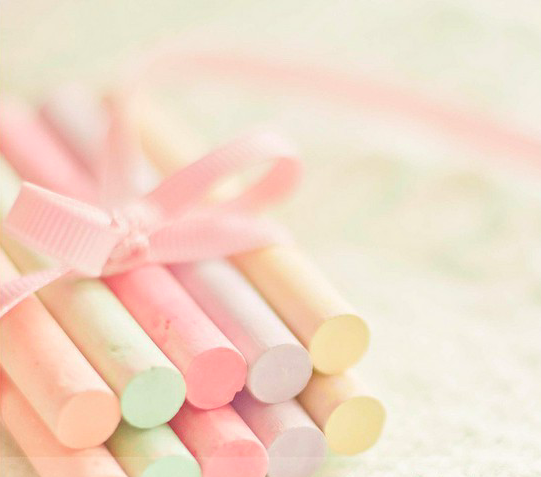 Updating your wardrobe once Spring hints can be a daunting task. Never mind the cost of replacing your fall-winter attire for lighter fabrics, there is this sudden urge to don lighter tones as well. All is not lost. Don't fret! Introducing shots of pastels into your palette is easy. It can be done via scarves, clothing and even jewelry. Developing a collection within your wardrobe can create a fascinating and updated look. Majestic Filatures is a great label that offers just that. As the brand Ambassador in shop at Bloomingdale's, I thought a descriptive was in order.  The Majestic  linens and lighter weight fabrics are offered in a bevy of tones that can easily be incorporated into your existing wardrobe for day and night. I can show you how. I am in Bloomingdale's 4 days a week. My contact information is always available to you. The new Spring collection is scheduled to arrive this coming week. Take a peek below. You can see some neutrals, gentle brush stroke stripes and pops of color. This is a perfect example of how to incorporate these softer tones into your wardrobe now.  I suggest that you consciously begin to allow the ever so popular and over worn "color" black to fade from your daily wardrobe. Yes it is easy, but it's not only boring if not worn with textures to create interest. Black also absorbs all sorts of energies you come in contact with. The feeling may be subtle or you may hardly notice, but hark… it's there and can be draining from your own entire energy source. Hence, wearing pastels with other tones can begin to alter your seasonal wardrobe.  If you're still uncertain how, I invite you to come into Bloomingdales, and I can help. Alternatively, we can set up a one-on-one private session. It is liberating and a very sensible investment. Working with your existing wardrobe first is a great place to start! No time like NOW.

HEALING GEMSTONES
If you wish to experience the energy of pastels, another option is through gemstones. I've just completed a unique one of a kind Talisman necklace using a fairly large Rose Quartz druzy stone, surrounded by a halo of diamonds, all of which are suspended from a hefty rustic looking sterling silver cable link chain.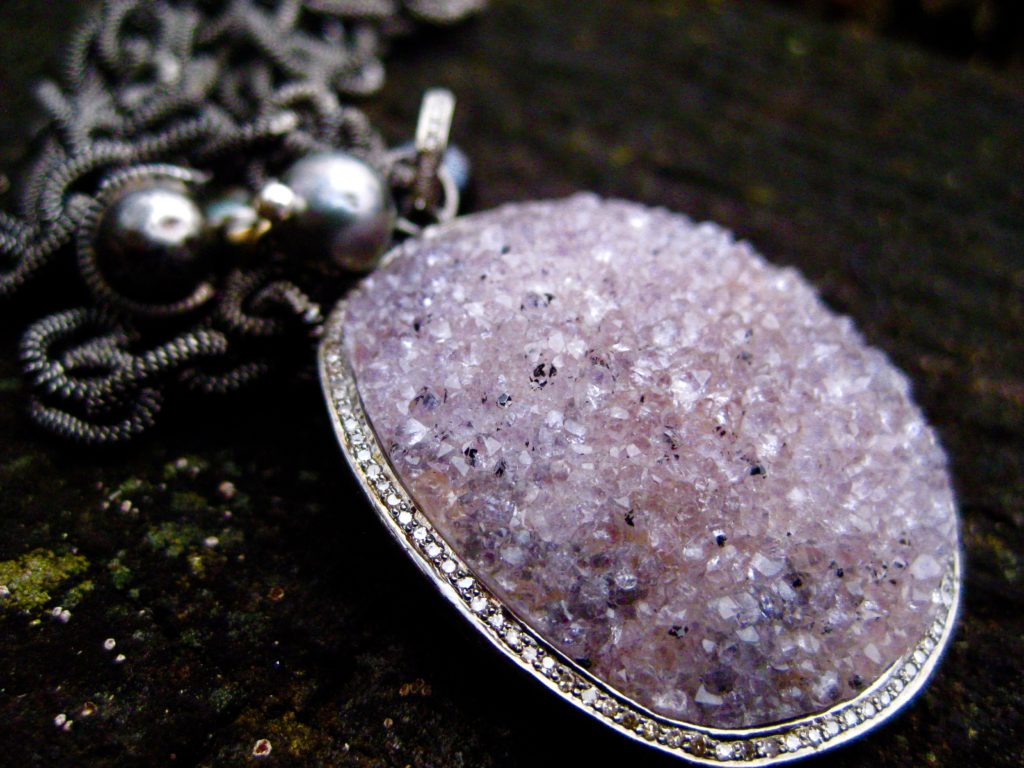 An instant click will bring you to the page with complete descriptions, pricing and ordering ability. This could the moment I announce Aquamarine, the birthstone of March, instead however, I prefer to share with you another new piece of jewelry which reminds me of tiny fluffy chicks. Although I am referring to a brilliant yet subtle colored stone, this Rutilated Quartz necklace is perfect for Spring as an accent for your wardrobe. This piece is versatile enough to wear all year round, but exudes freshness to me.  The brilliant accent stones muted in the back ground remind me of Easter eggs. Love this piece!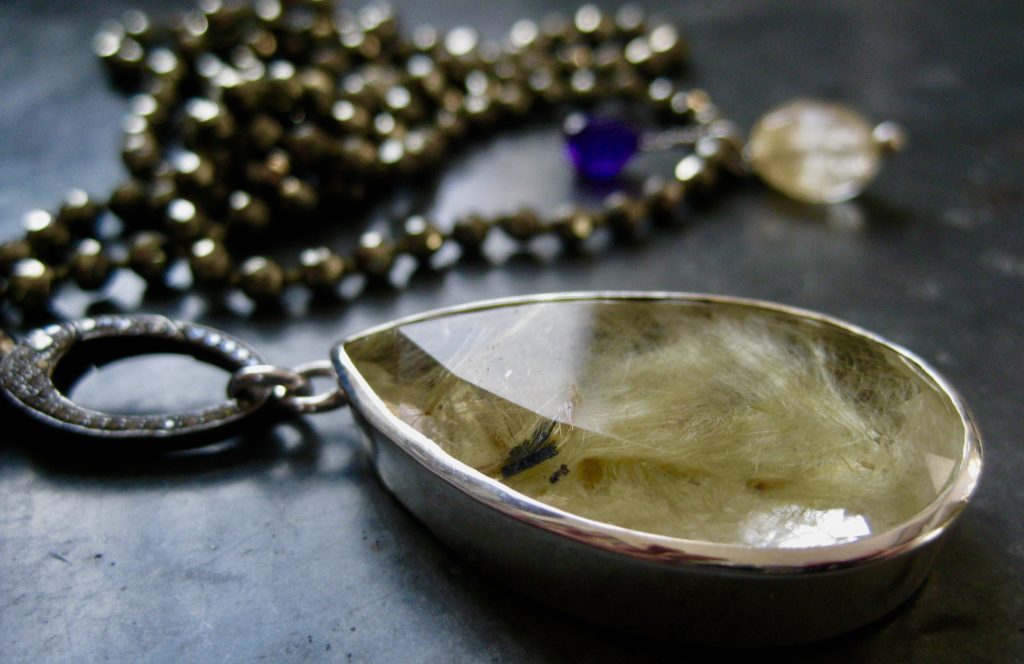 Before I embark on food, I wanted to share another piece that I simply love. The Baroque pearl is upfront, and the whispering tourmalines are but an echo lying quietly in the background. How utterly romantic! Take a look below.  Pure, demure and shy. Pearls are wonderful to bring about new beginnings, as are diamonds. Spring exudes exactly this! As nature begins to sprout, color becomes more important in our lives. The dormancy of winter is dissipating, as the pastels begin to shoot up. You've heard me time and time again discuss the life that stones carry from earth. This is why they are healing when worn or held. The outcome can be profound. I love creating these pieces of healing art adornments for the body.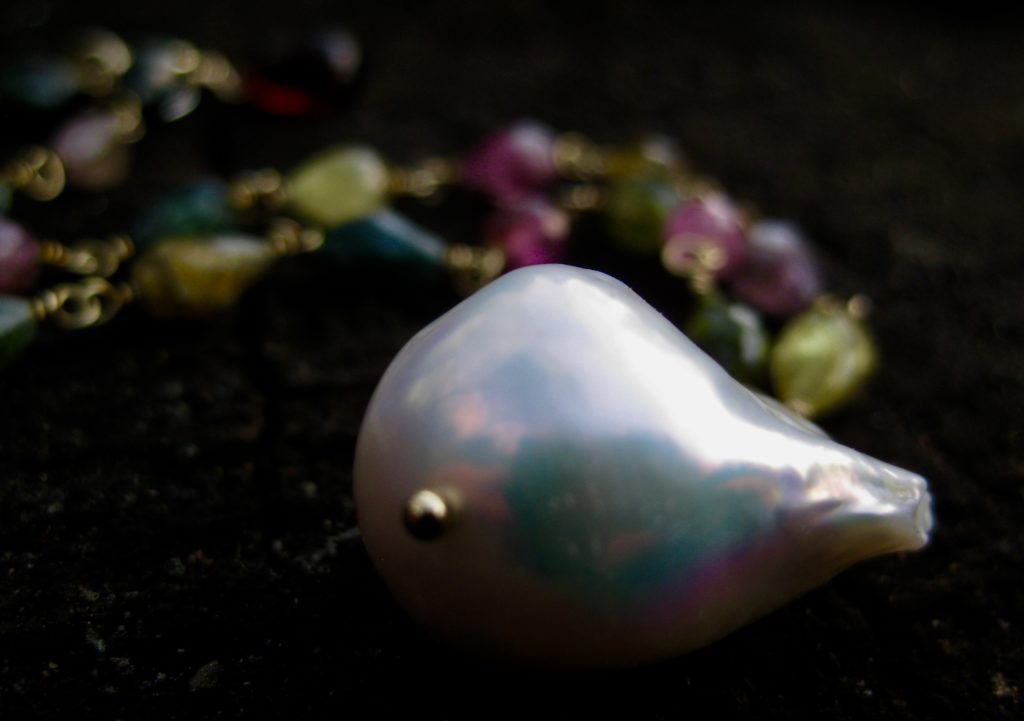 PASTEL FOODS
In keeping this blog post on the lighter side, here are a few creative concepts in which one can ingest pastel foods.  These foods are whimsical, enchanting and fun! First up in keeping with the season..
Easter Eggs: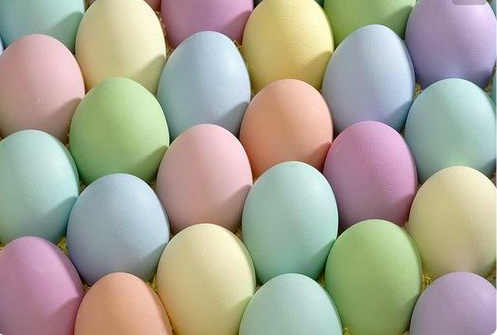 Mint Ice Cream: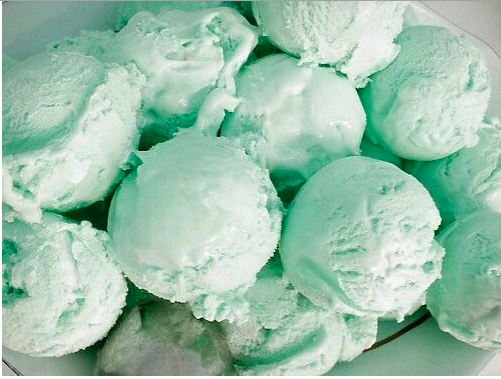 Subtle Seduction- French Macarrons: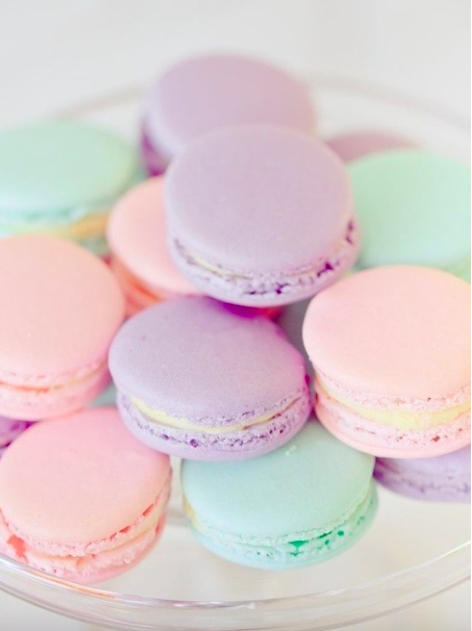 Cotton Candy Classic: 
Oreo Cookie Finale: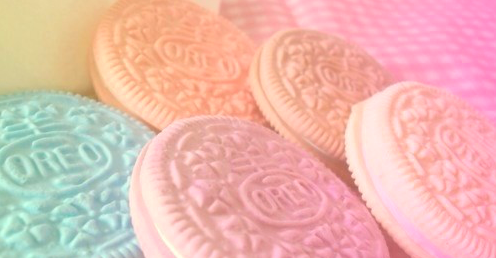 How can you not smile? Hence, my smile inducing and joy inspiring blog post for March. It was fun. I hope you enjoyed it too. The longer and lighter days have just begun. As nature awakens, I hope it will inspire you to listen to your heart and soul. There is a bounty about to Spring out there. What will you do to celebrate?
Thank you for taking this journey with me. You all inspire me to write. That alone, is enough for me to be grateful for.
Thank you!
Yours in joy,
Dava