The month of May is a whirlwind in contrast to the ever slow pace of  Winter months left behind. Seems like history now.
Entering late spring, the momentum and energy of the season, sparks our souls and anything stagnantly left over from where we were in the past.   Now sizzling with excitement and potential, in contrast, we can see how our minds glazed over during our long hibernation period. It's easy to forget how greenery can be so inspiring, fresh and uplifting.  The flowering trees are icing on the cake. Such a wondrous contrast having cohabited with nature's stark, naked branches as the result of the season's natural full swing course. Welcoming the bounty, blooming in all varieties. Flowering trees such as the one below, are warmly welcomed as they create a canopy over the St. Botolph Street area. This intoxicating sight can transport you right off the city street.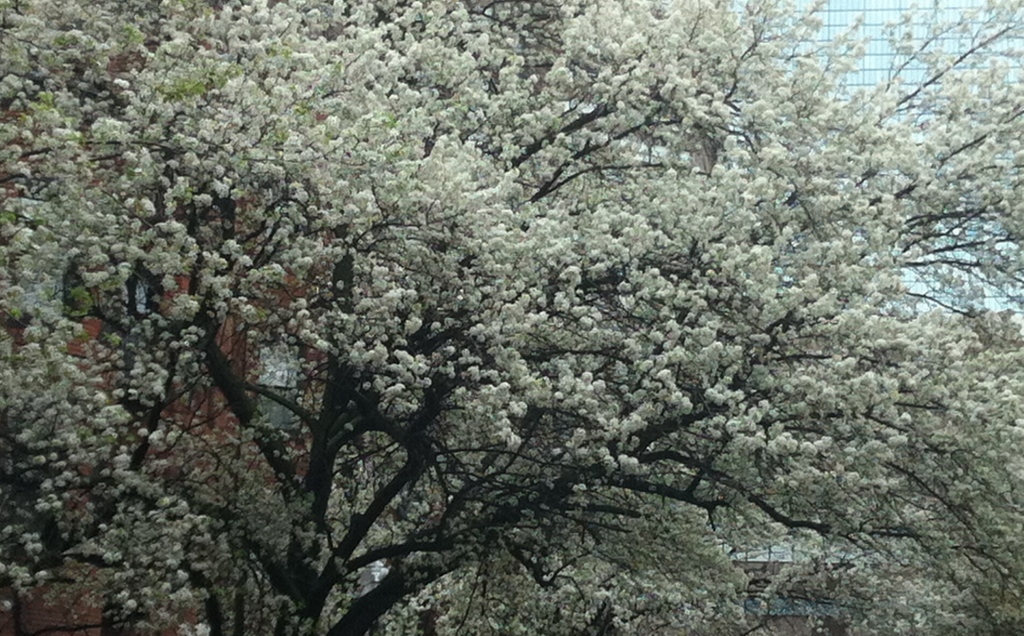 In more rural areas, the color green is most prominent. All different values and tones of this earthy refreshing hue are apparent. Green is the color of renewal and rebirth. Representing harmony, balance and nature. Green symbolizes good luck and health. It has a calming influence, and promotes health and healing. People who love green tend to be loving and nurturing.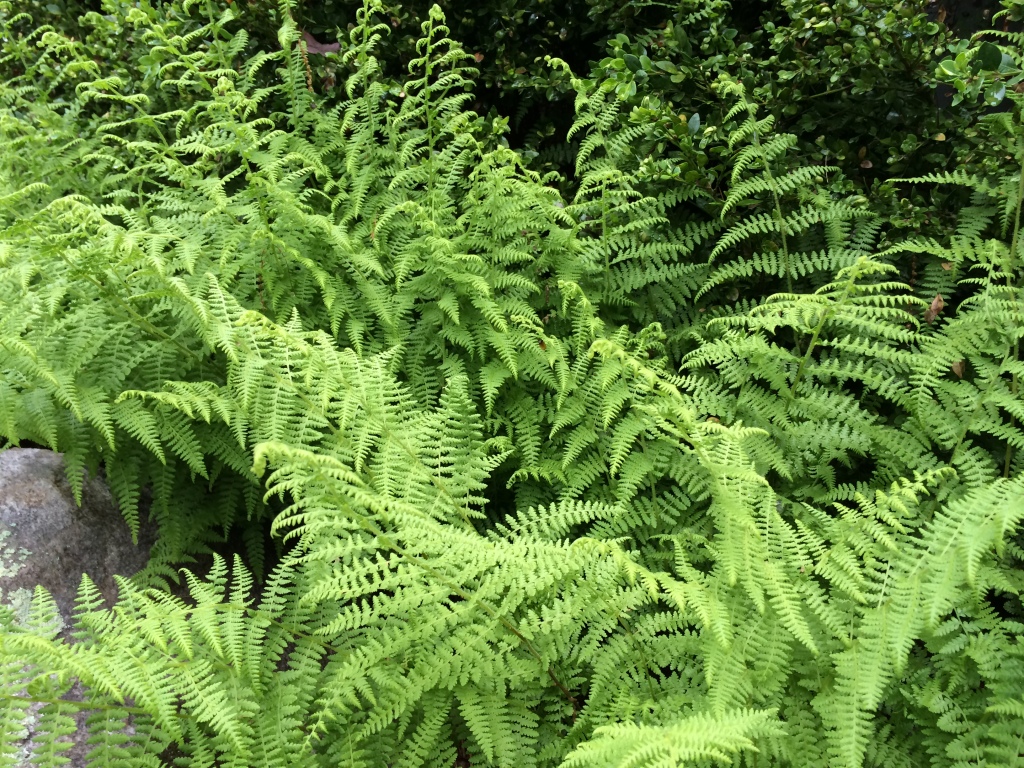 May's birthstone is Emerald. Gem of Venus. The deeper and more vivid the color green, the more valuable,the stone. Known as the "stone of succesful love", Emerald opens and nurtures the heart chakra. This stone is also known to release inner negativity you may be holding on to. Within nature, this wonderful hue exudes its color and energy of the green ray.  Emerald celebrates May.  Appearing in later Spring, everything is lush, especially after rain. The Nymph necklace below personifies the variations of colors within the stones, creating definition and dimension within this piece.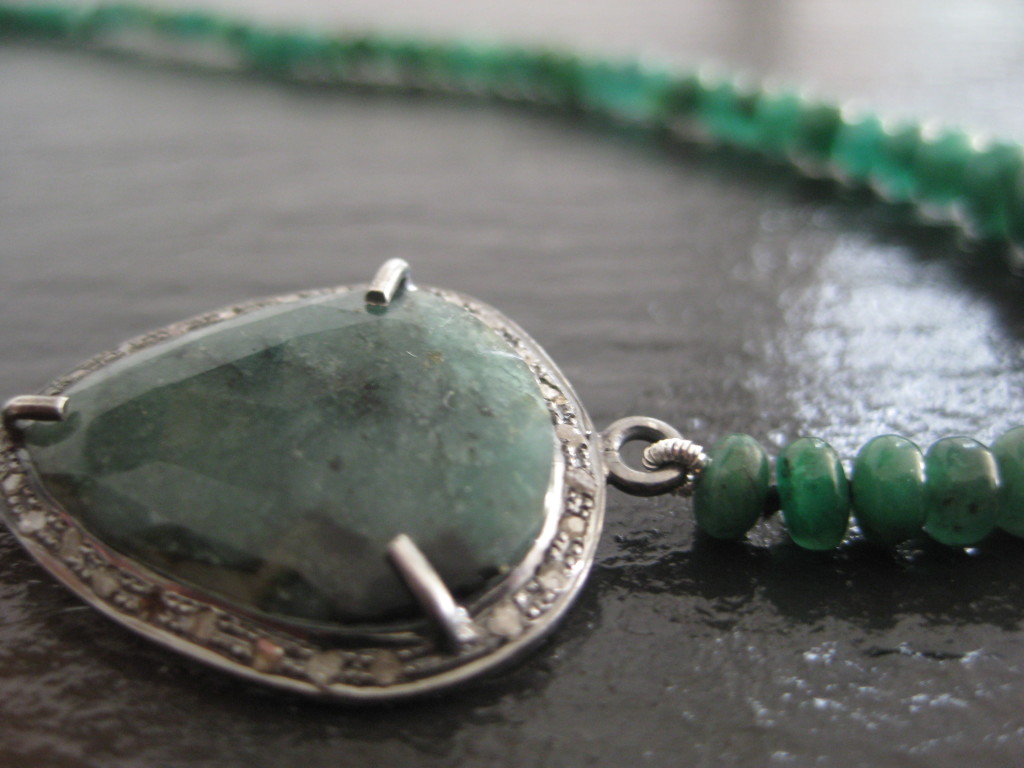 Emerald enhances unconditional love, unity and promotes friendship. Serenity, intuition, intelligence, clear vision, truth and communication are all traits induced when wearing Emerald. The double strand Emerald necklace below reflects a slightly different cut than the smooth  graduated stones above. You can see a tremendous variation within the stones here, partially due to their cut facets. This piece has a focal pendant of pave diamonds in the shape of an Angel's wing, encouraging new beginnings and freedom.
Available now, at MATSU.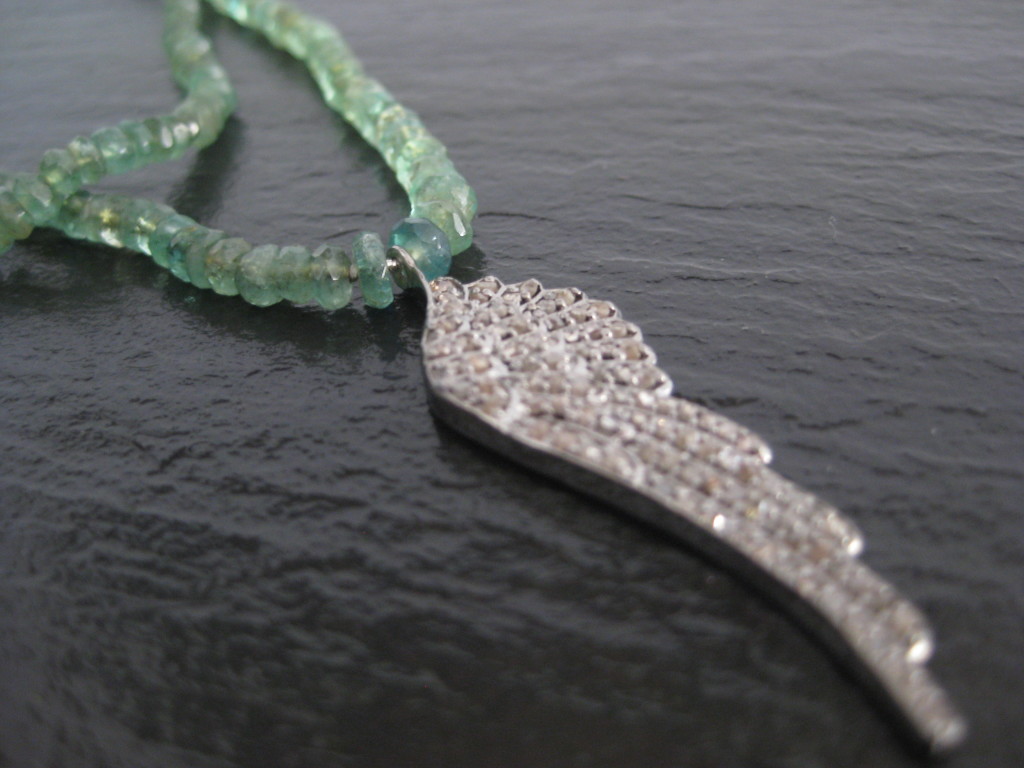 Continue to enjoy this Spring's bevy of greens in nature, when walking in the woods, or driving your car. Don't take it for granted! As the months glide by, late Spring into Summer, and the days become much brighter longer, we come upon June.The month of the Summer Solstice and the longest day of the year; June 21. This event is a couple of weeks away, but honestly, once the fire flies hit, it seems like time simply whizzes by! I am combining 2 months in this one blog post, because just that…. the month of June is already upon us. It's magnificent birthstone is the Pearl. Spiritual Antioxidants! Look at the lustre, and the tonal variation of these Tahitian babies… just beautiful. Pearls have healing qualities associated with lunar energy, and is the gemstone of the planet MOON.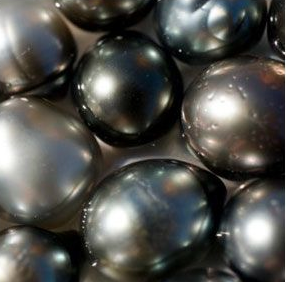 Coming in all sizes, colors and shapes, this classic stone is a sure fit as an addition into everyone's wardrobe of clothing, or jewel collection. This stone is indeed an organic gem, created by living creatures. The only gemstone made by living animals, in fact. Harvesting Pearls from mollusks does not kill the animal. Saltwater pearls come from oysters and freshwater pearls come from the mussel.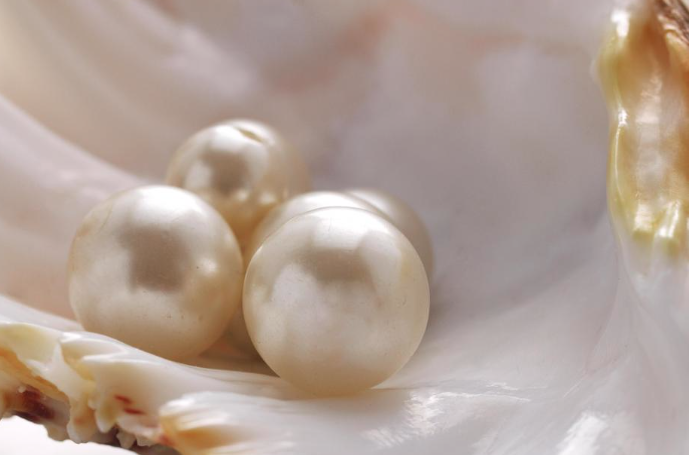 One who wears or possesses a pearl enjoys the good fortune and is blessed by the goddess Lakshimi ( goddess of prosperity), lives long and acquires vitality and intelligence. Pearl signifies faith, charity and innocence. It enhances personal integrity and helps to provide a focus to ones attention. Interestingly, Pearl inhibits boisterous behavior. Purity, Honesty, Innocence, Integrity, Focus, Concentration, Wisdom…are traits of the mysterious Pearl.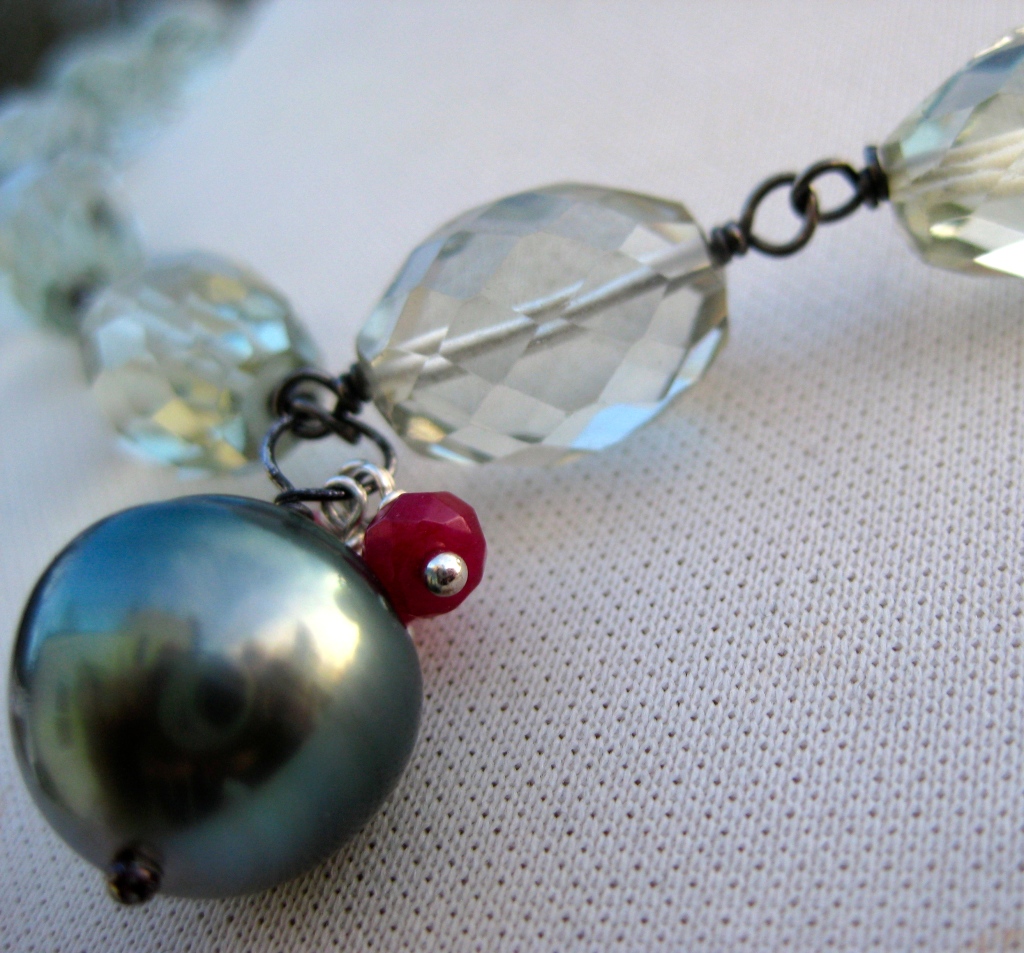 The photo above is Tahitian pearl, with a couple of ruby accents sitting nearby, suspended from elliptical shape faceted green amethyst necklace. This piece is 22″ long. I love the combination of the stones, and the pearl. The deep colored pearl adds  natural serenity. Also available at MATSU, now.
The month of June is named after the Roman goddess Juno- wife of Jupiter and queen of the gods. Joyous June. Winter is gone. Summer is approaching, and so is the abundance of food, as we seek a lighter nutritional diet, and so may I present to you 6 Foods that taste better in June than any other time of the year. And so I begin.
Beets: available in different colors, high in fiber, having an earthy taste and a tinge of sweetness. Holding a high amount of antioxidants, as well as vitamin C.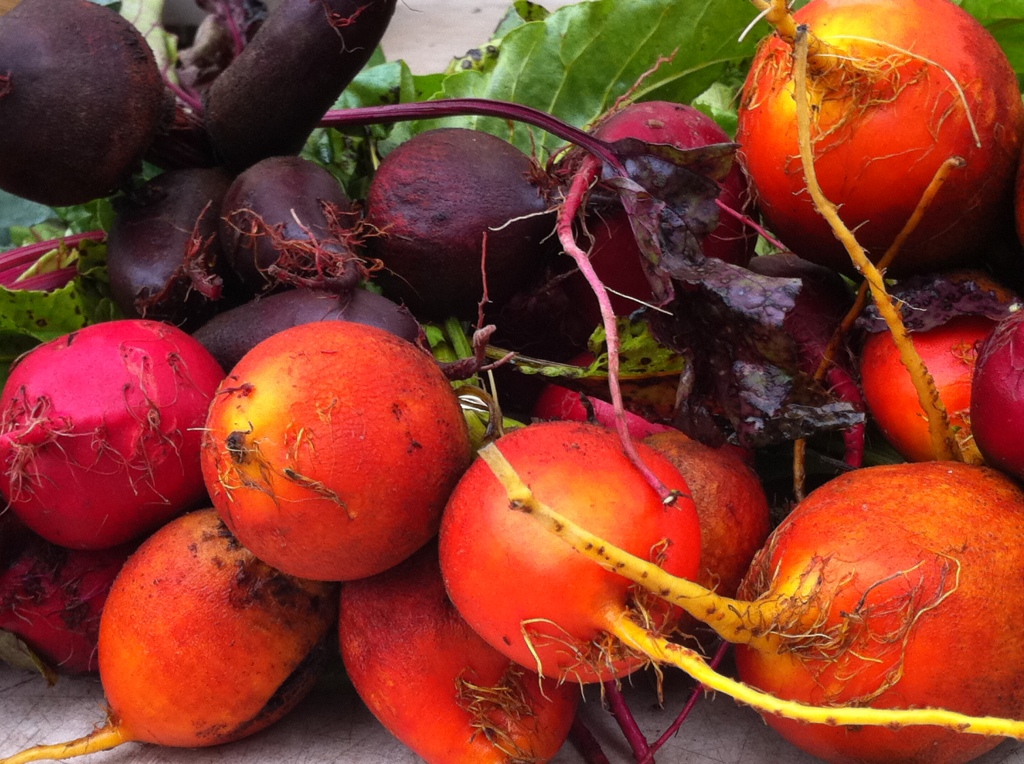 Asparagus:  quite versatile. Baked, roasted, saute'd, or grilled.  High in Vitamins A,C E and K. Terrific in salads too. High source of folate and fiber. From the Lily family!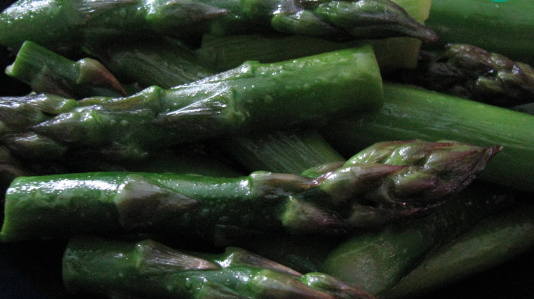 Garlic:  rather pungent when raw, but almost nutty if roasted, or grilled. High source of antioxidants, and a natural stress reducer. Boosts the immune system.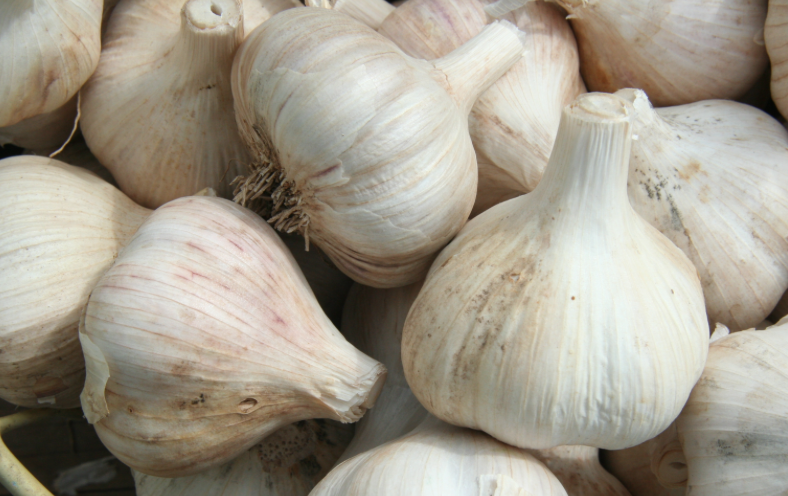 Peas: prevents colon cancer, osteoporosis, strengthens the immune system, prevents aging high in vitamins B1, B2, B3, B6. eating them raw, is best! they are like candy, only better.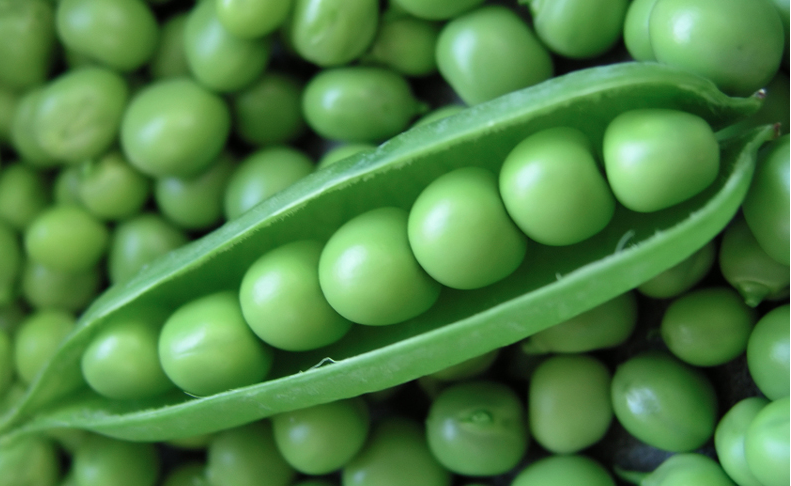 Peaches: high in vitamins C and A, promotes healthy skin, reduces hair loss, prevents heart disease and obesity related diabetes, calms an upset stomach.
Strawberries: nutrient rich, packed with antioxidants, Vitamin C, immune system booster, fights bad cholesterol, wrinkle prevention, promotes eye health, reduces inflammation.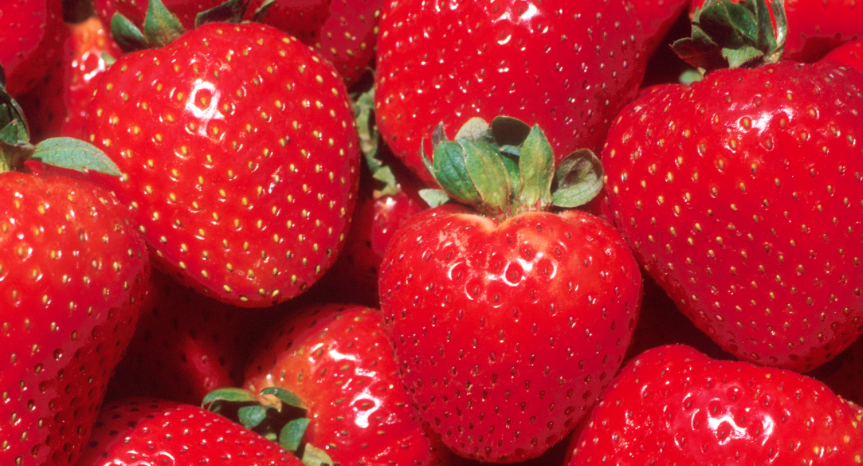 So there you have it! A very edited version of something I am very passionate about. The topic includes nutritional qualities, color, nature, health and beauty. I hope you find the information helpful. Sharing this with you brings me pleasure. I ask that you do the same for yourself by sharing with your friends and loved ones.
Until we meet again, I thank you for reading my blog and invite your feedback. I also invite you to visit me at Matsu. Come on in with a question, or concern you may have in your life, feeling stuck, or trying to remove any other obstacles in order for you to become the best you can be. Gemstones do not lie. I am here to assist, and they are my tools. Their energy awaits. Color therapy, retail therapy. We can always experiment. Can't wait to see you soon.
I'd also like very much, to thank all of you who came to support me, and my shop, the Astrologer and Tarot Reader on May 17th, at my Opening Celebration.  Your willingness to learn and explore makes me very happy. Keep curious. It's healthy.
Stay tuned for the next gathering.
Yours in joy,
Dava